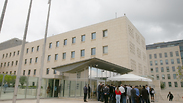 Ministry of Foreign Affairs in Jerusalem
Photo: Ohad Zwigenberg
The prime minister has been at the center of Israel's foreign relations stage for the past decade.
He gives a stellar show that attracts many, performs duets with heads of state, signs trade agreements and enjoys the production services of the master himself, President Donald Trump.
The language, the style, and self-confidence of our mega-ambassador, along with the doors opened to him, to world leaders, have made him a super diplomat whose methods will be studied in the prestigious Foreign Ministry cadet academy.
That is if such an academy is opened this year. So far, none is planned.
Not because there is nothing to learn from the champion of all times. The wizard of policy, and the pied piper of foreign ministers.
There will be no academy this year because there is no budget for one. That should come as no surprise to anyone who's read the state comptroller's report from 2016.
The most prestigious course in the land was axed, the report finds, because alternative institutions and departments were created and budgeted, to deal with Israel's foreign policy, leaving 440 ministry staff: ambassador, consuls, and other employees of the service, in dire straits.
The last time the ministry's voice was heard was during the 2017 visit of the newly elected US president. Then in an effort to draw attention to their plight, staff threatened to strike claiming cut wages and an ineffective ministry.
Today even the few who still remain see Israeli diplomatic missions close and emissaries absent from their posts.
Numbers don't lie. Israel has 103 missions in total around the world, less than countries such as Greece, the Netherlands, Switzerland, Austria and Portugal - all small countries too, and none of which have a conflict with the Palestinains to worry about.
Compared to Arab states, Israel's presence is dismal as well, especiually cvompared to Turkey's 223 missions, Egypt's 166, Iran's 142 and Pakistan's 118.
We are losing the diplomatic and public relations battle by conceding our place and our standing in the world, to our enemies.
As things stand now, the same person responsible for the demise of Israel's foreign service will sign the anticipated peace plan coming our way.