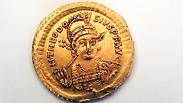 small picture of the cion
A group of Israeli schoolboys stumbled across a shiny coin on a field trip, only to discover that it was 1,600 years old and the first such find in the country. What's more, the coin bore the face of the man who abolished the contemporaneous Jewish leadership in the Land of Israel.
The four ninth-graders from the Jezreel Valley, Ido Kadosh, Ofir Siegel, Dotan Miller and Harel Green, found the coin during a school trip and immediately realized that they had something special and informed their teacher, Zohar Prishian. He in turn contacted the Israel Antiquities Authority, which identified the coin.
According to Antiquities Authority coin expert Dr. Gabriela Ingrid Bijovsky, the coin was made in what is now Turkey some 1,600 years ago.
"This is a solidus, a gold coin minted in Constantinople (today Istanbul) by Theodosius II, around 423-420 CE," she said. "This coin is a well-known feature from the eastern part of the Byzantine Empire, but this is the first time that such a coin has been discovered in Israel. One side of the coin shows the portrait of Emperor Theodosius II and on the other side the image is of Victoria, the Roman goddess of victory, holding a large cross."
Theodosius II was one of the most influential emperors of the Byzantine Empire. Among other things, he published a comprehensive code of laws for the empire, known as the Theodosius Codex. According to Yair Amitzur, an Israel Antiquities Authority inspector for the Eastern Gallilee - the area in which the find was made - Theodosius was bad news for the Jewish people.
"Emperor Theodosius II, who appears on the coin, is the one that ordered the cancellation of the presidency of the Sanhedrin (network of rabbinical judges) - the leadership of the Jewish people at that time - and the transfer of Jewish donations to the imperial treasury instead of the Sanhedrin," he said.
"Following the abolition of the presidency by Theodosius, the Sanhedrin ceased to exist, and the leadership of the Jewish people moved to Babylon and then to the Diaspora for 2,000 years. It is symbolic that the coin with Emperor Theodosius II impressed on it was found by Israeli students near the Sanhedrin Trail, a hiking route prepared this year by Israel Antiquities Authority that follows the leadership of the Jewish people in the Galilee during the period of the Mishnah and the Talmud (written records of Jewish oral law)."
Thanks to their landmark discovery, the four students were awarded special certificates by Nir Distelfeld, the inspector of the Antiquities Authority's robbery prevention unit, the coin was handed over to the National Treasures and the students received certificates of appreciation.