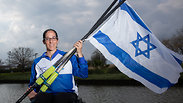 Moran Samuel
Photo: Oz Mualem
She's had many moving moments in her rowing career but after raising the Israeli flag in numerous competitions, and winning numerous medals, Moran Samuel is especially excited to be chosen to light a ceremonial torch at the 71st Independence Day celebrations.
Moran, 36, began her athletic career playing basketball on the national team but lost the use of her legs due to a congenital vascular disease. After a long period of rehabilitation, she returned to sports - initially to rebuild a wheelchair basketball team and later taking up rowing.
"It was a surprise to receive the call I had been chosen," Moran says. "I felt my heart race. I immediately thought of my parents and partner, Limor, and could not wait to tell them."
"As a kid we would watch the torch lighting ceremony as a family, musing whether one of us sisters would ever be so honored," she says.
"After winning a bronze medal at the Brazil Para-Olympics and having taken on educating youth about disabilities, bringing about a change in public perception, I think this is a validation of all my hard work, as a woman who is married to a woman, as an athlete and as a person in a wheelchair. Most importantly it signifies my efforts to be a positive role model."
Samuel is a child physiotherapist, and works with a non-profit that raises awareness for disabled people and their challenges.
"I see an improvement over the past 10 years," she says. "There is more media attention as well as an understanding that we are professional athletes. There is still room for improvement like broadcasting our events and giving more financial support to athletes."
Samuel says she is grateful for her family, her partner and children who follow her around the world cheering her on.
"I need them there screaming and cheering at the finish line," she says.