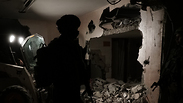 IDF troops raze the home of a suspected terrorist
Photo: IDF Spokesperson's Unit
IDF and Border Police troops, working with the Civil Administration, on Friday morning demolished two apartments owned by Arafat Irfayia of Hebron, who is suspected of murdering 19-year-old Ori Ansbacher in a forest in Jerusalem last February.

The demolition came after the High Court last week rejected an appeal by the Irfayia family, and marks the first time that the court has approved the demolition of two homes under such circumstances.

Ansbacher, from Tekoa in the West Bank, was attacked and murdered in the forest at Ein Yael on the outskirts of Jerusalem in early February.

The Shin Bet security service said that the attack had a nationalist motive, and that Irfayia left his home in Hebron carrying a knife, saw his victim in the forest, attacked and killed her.




Irfayia, 29, was arrested days later in a raid near a mosque in the West Bank city of Ramallah.

He is believed to be affiliated with the Hamas terror group and was previously imprisoned for possession of a knife and illegally residing in Israel.