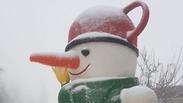 Snow on Hermon ski resort
Photo: Hermon ski resort
Passover in Israel includes a rare sight this year – snow and hail in late April for the first time in decades.

Heavy snow fell in the northern Golan Heights, sticking to the ground. The snow fell in the Druze villages near Mount Hermon, as well as in Nimrod and Neve Ativ and Kibbutz El Rom.

In central Israel, meanwhile, hail was reported in several places across the Dan region.

On Kibbutz El Rom, residents said the last time snow there had been snow in the area at this time of year was in 1997. There was snow for Passover in 2002, but the holiday fell that year at the end of March.

At the Hermon ski site, snow fell on the lower levels for the first time in 22 years.

By Sunday afternoon about 10cm of snow had accumulated on the ground although conditions were not suitable for skiing.

The site was closed Sunday due to poor weather, but the management said it was very pleased by the late snowfall. The snow is expected to last for a few more days.

The Israel Nature and Parks Authority announced that due to the weather, activities at the Caesarea National Park have been canceled for Sunday but would resume on Monday.

Nahal Darga, Qumran, Og, Prat and all the rappelling routes in the Judean Desert were closed for travelers due to the weather.

The Ein Gedi Nature Reserve was also closed, save for the stretch from the start of Nahal David to the first waterfall, from Tel Goren to the Ein Gedi spring and the ancient synagogue.

The Meteo-Tech Meteorological Service says that an unseasonal weather system over the eastern Mediterranean has been causing rainy, cold and stormy weather in the region.