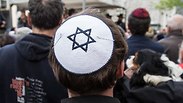 March against anti-Semitism in Berlin
Photo: EPA
Israeli migration hotspot Berlin sees spike in anti-Semitic attacks
Last year saw 73% increase in the number of Jews directly affected by anti-Semitism; meanwhile, a disturbing social media trend sees hundreds of young Germans visit concentration camps and proclaim their lack of remorse for the Holocaust
There has been a significant rise in anti-Semitic attacks in Germany's capital, which over the past decade became a migration hotspot for young Israelis, a research conducted by an anti-Semitism group finds.

It's estimated some 10,000-25,000 Israelis have relocated to Berlin since 2009, a migration wave that's driven largely by young artists trying to integrate into the local art scene.

According to Berlin's Anti-Semitism Research and Information Centre (RIAS), in 2018 there were 1,083 anti-Semitic incidents in the city, which represents a 14% increase from the previous year that saw some 951 incidents.

The number of physical assaults on Jewish residents spiked dramatically from 18 attacks in 2017 to 48 in 2018. The number of threats against the Jewish community also saw an unprecedented rise, jumping from 26 incidents in 2017 to 46 in 2018 (with some 15% of the issued threats coming from individuals of Muslim background).

In addition, at least 117 letters with anti-Semitic contents were received and some 43 cases of damage to Jewish-owned property had been recorded.

Overall in 2018, at least 368 Berliners were directly affected by incidents with anti-Semitic undertones - compared to 213 people in 2017 - which represents a 73% increase. The number of Jewish women who were personally affected by anti-Semitism rose by 80% from the previous year.

In the meantime, an alarming trend has taken over Germany's social media over the past month, which sees young Germans declare their lack of remorse for the Holocaust while visiting former death camps, according to a research conducted by an Israeli-owned media company Vocativ.

The disturbing trend was started a month ago by a German neo-Nazi activist and Holocaust denier Nikolay Girling, who posted a video of himself in the Dachau concentration camp as an act of opposition to holding German people accountable for the Holocaust. He called on young people to follow in his footsteps and upload their own versions to social networks.

Girling's videos have been viewed over 12.8 million times and his YouTube channel has grown from 2,000 to 65,000 subscribers over the past year.