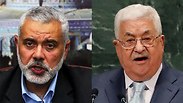 Mahmoud Abbas and Ismail Haniyeh
Photo: AP, EPA
The Hamas terror group has infiltrated the Palestinian Authority security framework in a wide-ranging operation over the past year and recruited senior PA defense officials to spy for it.

This operation, executed by senior Hamas officials in Gaza and the Hamas leadership abroad, was uncovered two months ago. According to Palestinian reports, all of the Hamas agents are under arrest.

High-ranking Palestinian officials told Ynet and its sister newspaper Yedioth Aharonoth that PA military intelligence uncovered the plot, alerted the Palestinian leadership and launched a secret investigation to learn its extent.

Palestinian security branches are responsible for security cooperation with the Israel as well as for combating Hamas and Islamic Jihad operations in the West Bank. The PA is controlled by President Mahmoud Abbas and his Fatah movement, which has been locked conflict with Hamas for more than a decade. All attempts to reconcile the two warring parties have failed.

The security officers tapped by Hamas were asked to relay information about planned operations against Hamas, back to Gaza. Some were asked to spread false information within the security branches to sow confusion and disrupt intelligence-gathering. Hamas also intended to use internal power struggles to their advantage.

Investigators found Hamas infiltrated several security branches simultaneously, with varied degrees of success. They found Hamas agents were among intelligence officers, in the general security services, national security services and police.

Some operatives were coerced into cooperation by arresting and exerting pressure on relatives living in the Hamas control Gaza Strip, others were lured by money.

Some suspected Hamas agents have already confessed. All are believed to be in custody. Palestinian president Mahmoud Abbas, was fully briefed on the investigation.

Sources point out Hamas is able to entice operatives with money since, salaries of security personnel were cut by half, as a result of Israel withholding tax revenue it collects for the PA.

The Israeli government began withholding taxes in an effort to force the PA to stop supporting families of convicted terrorists.

Financial difficulty for PA security staff, especially leading up to the holy month of Ramadan, has made Hamas efforts more successful, Palestinian sources say.

They also express their frustration at Israel's sanctioning of the PA despite the ongoing security cooperation and the relative calm in the West Bank, while easing pressure on Hamas and allowing funds into the Gaza strip in exchange for calm on the Israeli-Gaza border.

According to these same sources, Hamas may find it easy to enlist agents for its purposes in light of continued PA cooperation with Israel.