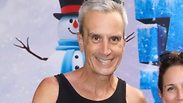 Israeli TV host Avri Gilad
Photo: Rafi Daloya
Popular Israeli morning TV host Avri Gilad sparked controversery Monday by claiming that Muslims in France have been setting fire to churches, and insinuated that Notre Dame Cathedral was among them.
Gilad said during a discussion on the Sri Lanka terror attacks on his morning television show that French churches are being set on fire by Muslims.
When asked to clarify that the Notre Dame fire, which broke out last week, is not among them, Gilad responded: "I don't know that? Do you know that?"
Emmanuelle Elbaz-Phelps, a foreign correspondent for Channel 12 news who was being interviewed by Gilad, replied she in fact did know there was no arson, since the French investigation had established that.
Surprisingly, Gilad then went on a rampage, pronouncing that all Europeans are liars, saying French authorities do not report any crimes committed by Muslims.
"They are afraid of their own shadows but more than that they are afraid of Muslims," he said.
875 כנסיות חוללו בשנה האחרונה בצרפת, רבות נשרפו. הרעיון שגם הנוטר-דאם הוצתה ע"י מוסלמים הוא באמת נועז מכפי שחלק מעמיתיי יכולים לשאת. מי צריך היגיון כשיש PC.

— Avri Gilad (@Avrigi) April 22, 2019
After the broadcast, Gilad took to Twitter to say: "875 churches were desecrated in France, this year, many of them set on fire by Muslims. The notion that the Notre Dame fire was also set by Muslims is really too bold for my colleges can bear. Who needs logic, when you have PC?"
In a subsequent interview Gilad added: "I do not believe the French police and certainly not that clown (French President Emanuel) Macron," whom Gilad said condemns sanctioning stipends to Palestinian security prisoners.