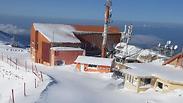 Mount Hermon covered in snow on Tuesday
Photo: Amir Abu Salah
Israelis took advantage of the Passover holiday and rushed to Mount Hermon on Tuesday, where the coldest April in the past 30 years brought some 25cm (10 inches) of snow to Israel's only ski resort.

In the afternoon hours, the main roads leading up to Mt. Hermon - where the temperatures remain below freezing - had to be closed due to overflow of tourists. Tens of thousands of people visited the country's nature reserves and national parks on the fifth day of the Jewish holiday.

The Prime Minister's Office released a picture of Prime Minister Benjamin Netanyahu along with his wife Sara and his two sons Yair and Avner, visiting the Gamla Nature Reserve in the Golan Heights in northern Israel.

The Israel Nature and Parks Authority said despite the unusual snowfall, the most visited tourist attractions appear to be in the south of the country: Masada National Park and Ein Gedi Nature Reserve by the Dead Sea. Tel Afek National Park and Caesarea National Park in central Israel were also among the most popular on the day.

The Sea of Galilee - which recently saw an increase in its water levels due to unseasonably rainy weather - had some 70,000 people visit its shores. The lake's Shikmim Beach had to be closed in the afternoon hours as well due to the high influx of tourists.

The officials of local communities - worried about the tourists polluting the area - apparently lectured the visitors about the importance of keeping the lake clean and distributed garbage bags.

The Ramat Gan Safari also overwhelmed with visitors and the police asked the public not to arrive in the area in private vehicles due to heavy traffic.

Meanwhile, the latest storm system appears to have caused a significant amount of damage to the agriculture sector, estimated to be around NIS 29 million, according to the Insurance Fund for Natural Risks in Agriculture.

On Wednesday and Thursday, the temperatures expected to rise significantly with the weather expected to be unseasonably warm, according the Meteo-Tech meteorological company.