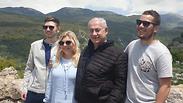 Prime Minister Benjamin Netanyahu announced Monday that he intends to name a town in the Golan Heights after US President Donald Trump.

"A few weeks ago, I attained the official recognition by President Trump recognizing Israeli sovereignty over the Golan Heights for all eternity," Netanyahu said during a family trip to the northern region. "There is a need to express our gratitude by naming a town or settlement in the Golan Heights after Donald Trump; I will bring it for government approval in the near future."



Last month, Netanyahu visited Trump at the White House where the president signed a declaration recognizing Israeli sovereignty over the strategic plateau Israel captured from Syria during the 1967 Six Day War.

The prime minster was on vacation with his wife Sara and children Yair and Avner in the Golan region. They visited Nahal Sa'ar and Nimrod Fortress, rode jeeps and visited Mt. Hermon as well.

While covering the prime minister's trip, reporters noticed that his security detail has been outfitted with anti-drone rifles.

The device uses radio waves to disrupt the drone's remote-controlled radio communication, causing the drone to drop to the ground or leave the area.

The device appears to be manufactured by the Chinese company HIKVISION which sells its product to law enforcement agencies throughout the world. Its technical specifications indicate that it can operate along a wide range of frequencies, has a range of one kilometer, a 9X zoom telescope and rechargeable, durable lithium batteries.

In 2017, a State Comptroller report warned about the threat posed by flying drones toward security sensitive sites and individuals and that a solution should be implemented.

The Netanyahu family arrived in the North on Monday and visited an ancient synagogue in Kfar Nahum (Capernaum) and the Gamal Reserves. At night they stayed at a hotel in Tiberias.




While hiking along Nahal Sa'ar, they met dozens of Israeli families enjoying their Passover vacation and many cried out in joy at the sight of the prime minister. Some sang "Bibi, king of Israel."