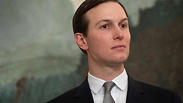 Jared Kushner, son-in-law and adviser to US President Donald Trump issued some comments Tuesday on the much talked about "deal of the century" being proposed by the administration to end the Israeli-Palestinian conflict. "Both sides will have to make difficult concessions," he said. Kushner also said that the deal was set to be announced last year but the Israeli elections changed the timing.

Kushner criticized the Two-state paradigm along with previous efforts to reach an agreement. "If people focus on the old traditional talking points, we will never make progress. The Arab peace initiative of 2002, which I think was a very good attempt but if that would have worked it would have made peace a long time ago," Kushner said. "We will do something different."

He maintained that the administration's approach was unique and that they studied all the previous attempts, how and why they failed.

Regarding timing, Kushner said that the deal would likely be announced only after the Muslim holy month of Ramadan. He also congratulated Prime Minister Netanyahu on his election victory and added that the coalition building process was also a factor.

"Our focus is really on the bottom up —which is how do you make the lives of the Palestinian people better? What can you resolve to allow these areas to become more investable," Kushner said. "We deal with all the core status issues because you have to do it, but we have also built a robust business plan for the whole region. I think that the two together have the opportunity to push forward," adding that Israel's security is of primary importance but that both sides will have to make compromises.

Kushner also said that he believes that the proposal will not be accepted easily on both sides but that ultimately, they will see that it will improve their lives in a practical manner. "Let's see if the leadership on both sides have the courage to make progress."