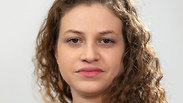 Netanyahu's embrace of a serial sexual offender
Opinion: Instead of zero tolerance for sexual harassment and empowering women who have experienced sexual assault, the prime minister prefers to empower his former bureau chief Natan Eshel who resigned in disgrace for taking upskirt photos at his workplace
It has been less than a year since the social media campaign #WhyIDidntReport gained traction, at the time when U.S. Supreme Court nominee Brett Kavanaugh was accused of sexually assaulting a number of women. But here we are with a blunt reminder of what happens when sexual harassment is entrenched in a political system - and it is thanks to none other than Prime Minister Benjamin Netanyahu.
In the past few days we have seen Natan Eshel freely coming and going in the room where negotiations on forming a new government are being held. Eshel is Netanyahu's representative to these negotiations. Eshel was also convicted in a disciplinary court and banned from civil service by the Civil Service Commisser for taking so-called "upskirt" pictures of women in the Prime Minister's Office. And here he is, back in our lives and the corridors of power through the back door.
Similar criticism of his presence was made during the last coalition negotiations in 2015.
This is not a marginal role. Eshel is a key negotiator for Netanyahu, helping to decide who takes key positions in the next government, its agenda and how it will shape our lives in the years until the next elections.
Not least is the issue of how - or even if - the next government deals with deeply rooted gender discrimination, domestic violence that affects thousands of women, wage discrimination, the endless list of women who have been sexually assaulted and ignored by law enforcement and the exclusion of women from swathes of public life.
What are the chances that Eshel - who saw women as nothing more than a tool for his personal pleasure - will also worry to deal with such issues? The answer seems clear.
What are women (and no few men) who were sexually assaulted supposed to think and feel when their prime minister honors a person like Eshel?
How can a system in charge of eradicating sexual violence to be trusted? When at the top of the pyramid sits someone who embraces another already convicted(!) of such behavior?
When by doing such a thing Netanyahu seems indifferent to the humiliation and pain inflicted on women who have been victims of sexual assault.
The #MeToo campaign launched about a year and half ago exposed the full extent of sexual assault in Western society – a plague affecting almost every woman - and demanded a firm stand against it.
A lot has been said about the need to find a solution to deal with the complaints, to change the attitude of law enforcement officials towards the victims and to put an end to the grim reality in which most women prefer not to complain because they do not believe justice will be served.
Yet there is one other thing that needs a systematic overhaul: the politicians who set the agenda and are supposed to be the epitome of morality for millions of people, need pursue zero tolerance to sexual assault and harassment.
They should not open the door for people like Eshel in the public sphere. They need to stop excusing, turning a blind eye, saying "it's not that bad," worrying about the future of offenders, and start caring for the welfare of their victims.
This is the only way our society has a chance to heal itself of this plague, and make our private and public spheres safer, less violent and more equal. There is no better way to start than with a good example set by the prime minister.
Natan Eshel needs to be booted out of politics, once and for all.
Miriam Zelkind is director of policy and legislation at the Israel Women's Network