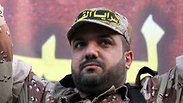 Islamic Jihad Gaza city commander
In the past weeks, according to Israeli military sources, there are signs the Islamic Jihad plans to escalate tensions between Israel and the Gaza Strip.

Notably Jihad's efforts to place a large explosive devise on the border targeting Israeli troops and culminating with the launching of a long-range rocket which landed off the shore of Israel late Sunday night.

These actions by Islamic Jihad are taken without the knowledge or consent of the Ruling Hamas faction and are in fact meant to impede efforts by Hamas leader, Yahya Sinwar, with Egyptian mediation, to reach a long-term ceasefire arrangement with Israel, that if reached, will deal with some of the suffering by the civilian population, and is also expected to improve Hamas's dire economic situation.

Progress towards such an agreement has been made. As a good will gesture, Israel expanded Gaza's fishing zone considerably, for the first time increasing the numbers and variety of fish, contributing to the local economy.

Islamic Jihad's leadership aims to disrupt this course of events even if publicly they say they support it.

Though a Suni Jihadist movement the Islamic Jihad takes its direction and support from Iran.

Ziad Nahala, Islamic Jihad's chief, is intent on maintaining the organization's relevance as the spear head of resistance to Israel

Islamic Jihad's motivation is twofold. On the one hand it is attempting to foil and long-term ceasefire agreement and on the other, it intends to disrupt Israel's Independence Day festivities and the Eurovision song contest due to take place in Tel Aviv next Month.

Israeli military, Monday, named Islamic Jihad's commander in Gaza city, Baha Abu Al Ata, as personally responsible for the rocket launch on Sunday. Israel wishes to signal to Hamas that as the rulers of Gaza, they too, are responsible for Jihad's actions and cannot claim to be in the dark about who is to blame for the rocket fire.

Israelis are also notifying Al Ata directly that he is in the cross hairs and must take into consideration possible retaliation from Israel.

The renewed restriction on fishing, bring home to Hamas, Israel's position, that they, Hamas, are ultimately responsible for everything in Gaza.