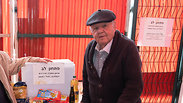 Ben-Avraham during his volunteer work
Ephraim Ben-Avraham, an 83 years-old from Safed, was nine when the Nazis led him towards his death across the border in Ukraine, along with his brother Nathan (12) and his sisters Fani (10) and Clara (8), leaving both their parents behind in Dorohoi, a Romanian town. His mother was a seamstress and his father a metal worker, and the Germans had other plans for skilled workers.

"The Germans led us a long distance. Whoever didn't keep up was shot in the head," says Ben-Avraham.

They were taken to a pit, a mass grave, and when the children stood on its edge, the Germans opened fire. Nathan, Fani and Clara, along with many others, were killed.

"If is wasn't for my brother Nathan, I wouldn't have ben alive today," Ben-Avraham says in tears. "He pulled me into the pit. I often wander if it might have been better if he would have survived instead of me."

But there, under the pile of bodies, it was only him that survived. That's where he swore:To survive and do everything he can to help other survivors.

A group of partisans passed by the pit and one of them pulled Ben-Avraham out. "I shutter to this day when I remember the voice of that partisan, saying in Yiddish: 'don't be scared, I'm also Jewish."

He then joined the partisans and when the war ended, he made his way to Mandatory Palestine. He later served in the IDF, got married to Miriam and raised two sons with her. He now has seven grandchildren.

"It's been 75 years and my heart is still torn. I've been crying over my brother and sisters for 75 years," he says with great pain.

Ben-Avraham never forgot his oath. He opened a branch of a non-profit organization suppying food for the needy in Safed, many Romanian elderly citizens, and has been distributing food to other Holocaust survivors for the past 16 years. He meets the same 15 families of survivors every week, and learns about their difficulties.

"Some Holocaust survivors and their families have nothing to eat," Ben-Avraham says with pain in his eyes. "The organization that I work in helps them survive."