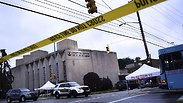 Tree of Life, Pittsburgh
Photo: AFP
As Israel marks Holocaust Memorial Day, the Anti-Defamation League issued its annual audit of anti-Semitic incidents for 2018. According to this report, US Jewish communities experienced near-historic levels of anti-Semitism, including a doubling of anti-Semitic assaults and the single deadliest attack against the Jewish community in American history.

The report recorded a total of 1,879 attacks against Jews and Jewish institutions across the country in 2018, the third-highest year on record since ADL started tracking such data in the 1970s.

In a year marked by the white supremacist shooting spree at a Pittsburgh synagogue, which claimed 11 lives, and punctuated by a dramatic surge in white supremacist propaganda activity nationwide, ADL's Audit identified 59 people who were victims of anti-Semitic assaults in 2018, up from 21 in 2017. While the overall number of incidents represents a 5 percent decline from 1,986 incidents reported in 2017, the number of incidents last year remained at near-historic levels – 48 percent higher than the total for 2016 and 99 percent higher than in 2015.

"We've worked hard to push back against anti-Semitism, and succeeded in improving hate crime laws, and yet we continue to experience an alarmingly high number of anti-Semitic acts," said Jonathan Greenblatt, ADL CEO and National Director. "We unfortunately saw this trend continue into 2019 with the tragic shooting at the Chabad synagogue in Poway. It's clear we must remain vigilant in working to counter the threat of violent anti-Semitism and denounce it in all forms, wherever the source and regardless of the political affiliation of its proponents."

The ADL calls on Congress to hold additional hearings on the increase in hate crimes, the rise of extremist groups and proliferation of their propaganda, and support legislation, including the Domestic Terrorism Prevention Act, that calls on the federal government to improve coordinated responses and collect data on domestic terrorism.