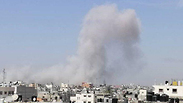 IDF bombing of Gaza strip
Islamic Jihad has been trying to bring about an escalation in Gaza tensions, hoping to stop any long-term ceasefire that might impede its ability to act against Israel.

It first attempted planting a large explosive device on the border fence, but this plan was scratched when it was exposed. The second attempt was launching a missile towards Israel, which fell in the sea off the southern Israel coast.

The third attempt to spark violence - which worked - was Friday's sniper fire that wounded two IDF soldiers. Israel responded with attacks on Gaza in which two Hamas militants were killed. And suddenly Islamic Jihad had what it was aiming for - Hamas had joined the fight.

Hamas leader Yahya Sinwar knows Israelis all too well. He spent years in its prisons, speaks fluent Hebrew and understands what makes its society tick.

The timing of this round could not be better for him, with Israel about to mark its memorial day for fallen soldiers, celebrate its 71st Independence Day and host the prestigious Eurovision Song Contest, which if cancelled, will reflect badly on the country and impact Israel's economy and tourism. He can ramp up the pressure on Israel, knowing it cannot escape its commitments, both domestic and international.

Just before this round of fighting began in earnest, UN envoy Nikolay Mladenov pressed Qatar to increase its aid to Gaza. But while Qatari representative Mohammed el-Amadi was due in Gaza, he instead went to Texas on personal business.

In addition, Mladenov negotiated Qatari aid of millions of dollars worth of food stamps to be allowed into Gaza to be handed out to families so that they can celebrate Ramadan. So far, these food stamps have not arrived and Ramadan begins this week.

In Cairo, talks continue between Egyptian mediators and Hamas and Islamic Jihad leaders. Hamas is represented by Sinwar and Islamic Jihad by its leader Ziad Nahala and Gaza City commander Baha al Atta, as wellas Khaled al-Batash another high-ranking official.

The latest reports out of Cairo indicate that the Palestinian factions are now keen to reach a ceasefire with Israel and end this round of hostilities. But Israel at this point is holding out.

Sinwar's list of demands has been known in Israel since it was made, before the outbreak of this violent exchange. It includes an increase of aid money - to be delivered in cash, engineering projects to be sanctioned, and a substantial extension to the Gaza fishing zone to name a few.

Israel so far has not been willing to comply, but concessions will have to be made when the inevitable ceasefire is negotiated. Israel would be wise, when presenting its own demands, to insist that Hamas rein in the Iranian-backed Islamic Jihad.

Whether Sinwar can or will is another matter.