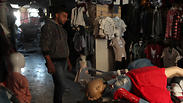 This round of fighting ended, for the first time since the 2014 conflict with Gaza, with Israel achieving its objectives.
This is evident by the fact that Hamas begged for a ceasefire, for a full 24 hours, before Israel agreed to one. This will be one lessoned well remembered, by the Palestinian factions.
The Israeli objective in this round was to reinstate Israel's deterrence in the eyes of Hamas and the Islamic Jihad. It appears this objective was achieved.
• Hamas needed a ceasefire in place before the start of Ramadan and that, was the catalyst for an agreement, and not any Israeli need to protect the Eurovision song contest.
• Israel preserved the legitimacy of its actions in Gaza by targeting military objectives even when bombing homes of Hamas and Islamic Jihad commanders.
• The political and military arms in Israel worked in complete unison and without leaking to the media, in stark contradiction to earlier rounds of fighting.
Deterrence is a fleeting commodity. It can only be tested over time and it would be wrong to assume Israel's problems from Gaza are over, but it seems Israel's military may have weakened some of the appetite, on the part of the terrorists, to resume shelling in a matter of weeks.
In this round of fighting, the IDF came prepared with a list of high-quality targets. It also had a planned schedule of escalation, to respond to the militants' actions, including attacking their cyber capabilities and hitting their attack drones. Some of IDF's actions are still under wraps.
It is safe to say the IDF was in control of the pace and extent of the escalation of fighting. That gave the IDF the upper hand in dictating events. But there was also a preparedness to pinpoint targets with lethal force. Military commanders did not hesitate to hit terror leaders and their immediate surroundings.
.
There had been criticism of the IDF in the past, for bombing empty buildings and bases and avoiding causing fatalities. This time it appears, any restrictions the IDF may have operated under, were lifted.
The fact that the Israeli air force targeted the homes of terror commanders, was also a factor in Israel's superiority, at the end of this last round. Though the commanders themselves, were underground, and their families were given ample time to escape, the homes, themselves, were considered by Israel, military targets. This was evident for Hamas and Islamic Jihad to see, and making the terrorists and their families, homeless, was considered an added bonus.
Israel also changed its earlier tactic, this time around, by targeting Islamic Jihad militants regardless of how Hamas might react. The Iranian backed organization payed a heavy price, sending a clear message to its leadership.
Rocket falls just meters from car
Israel on its part should have evacuated residents from border settlements, to safety. Civilian movement should have been restricted, to prevent casualties. There is no shame in these steps. Lives could have been saved.
More Iron Dome batteries should have been deployed. The terrorists fired scores of rockets at once, which ensured some would make it through the defense system, resulting in direct hits and civilian casualties.
And finally, it must be said that even if a deterrence has been restored, to some degree, the Gaza situation is set to blow up in our faces if it is not addressed.
Hamas must be removed and replaced by a leadership focused on its people's needs and not obsessed with the destruction of Israel and this remains the ultimate objective that must be achieved.