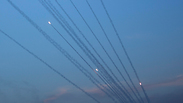 For an entire month Islamic Jihad tried to execute a major terror attack against Israeli targets or otherwise bring about an escalation in violence, in order to derail any long-term agreement between the Palestinians and the Jewish state.

After a few attempts, they finally succeeded in dragged Hamas into this latest round of fighting in Gaza.

Now that the smoke has cleared, it appears that this small organization has emerged as the most substantial player both in Gaza in particular and in the Arab sphere in general.

Egyptian negotiators are now obliged to accept Islamic Jihad as as equal partner, represented not only by its leader Ziad Nahala, but also by its field commander Bahu Abu al-Ata, who now also has a seat at the table.

Despite the heavy price that Islamic Jihad payed in the course of the fighting, and in the resulting ceasefire agreement, from a long-term perspective, it has had an upgrade.

Since the end of the 2014 Gaza war (known in Israel as Operation Protective Edge), Israelis have come to rely on the Iron Dome defense system to provide near perfect cover from rockets and missiles.

Hamas and Islamic Jihad, trying to break through this defense, fired many rockets at the same target and at the same time, calculating - correctly - that one at least would be able to reach its destination inside populated areas and cause civilian casualties.

Israelis should realize the Iron Dome can no longer provide the protection they had come to expect, and they should also understand this is a preview of what a war with Hezbollah may look like.

It has been years since targeted killing was used against terror chiefs in Gaza. The killing this week of money-man, Hamed Ahmed Khudari, was meant to remind the Palestinian factions of a time not so long ago when their leaders were regularly targeted. Hitting Khudari in the middle of a busy street was a warning.

We have now ended the eighth round of violence this year. At the end of each round, Israelis are left feeling nothing has been achieved and that the next round is inevitable.

It is time for the decision-makers to take a stand. Any stand.