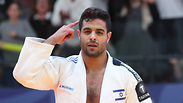 Sagi Muki Israeli Judoka
Photo: Oren Aharoni
The Iranian Olympic committee announced in a letter send Saturday, to International Judo Federation President, Marius Vizer, that Iran intends to follow the regulations of the Olympic commission and compete against any country.

The international Judo Federation announced that after years of Iranian ploys to avoid competing against Israelis, the federation has decided to step up efforts to ensure fare competitions.

Moshe Ponte President of the Israel Judo Association told Ynet:" we have been working for a long time on this and it is finally bearing fruit. The Iranians are committing to show up to every battle and maintain the spirit of the sport without feigning injuries or faking weight. We are pleased about that and are grateful to Marius Vizer. We hope other athletic fields will follow this lead.

Last February, then Iranian world champion, Saeid Mollaei, threw his semi-final match at the grand slam tournament in Paris, in order to avoid competing against Israeli Judoka Saki Muki. Muki went on to win a gold medal in the competition.

The commander of the Basiji Athletes Organization, General Davoud Azarnoush, said, at the time that he hopes Israel will be wiped out before the next summer Olympic games in Tokyo.