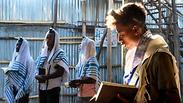 Members of the Falash Mura community in Gondar
Photo: Ariela Zaidman
One Friday night last January, in the northern Ethiopian city of Gondar, two security guards - one holding an AK-47 rifle and the other wearing a yarmulke - stood at the entrance to the HaTikvah synagogue, verifying those entering the premises were indeed Jewish.
The guards looked at us and suggested we return an hour later for the prayer, ordering men in the group to wear yarmulkes and the women to wear skirts. By the time we returned, the synagogue had filled up with French tourists holding bundles of used clothes and wearing condescending looks. When the tourists saw a row of children emerging from a side room, they looked like they were watching monkeys in the zoo.
But the locals whose synagogue it is are used to this sort of guest, just as they are used to wearing their hand-me-downs.
This happened on the eve of 82 members of the Falash Mura community (Ethiopian and Eritrean Jews who were pressed into converting to Christianity in the 19th and 20th centuries) proudly arriving in Israel.
The following day, on Shabbat afternoon, I returned to the same synagogue after visiting the Falash Mura community's tin shacks and mud houses. The young man with a yarmulke on, who just a day earlier assessed our Jewishness, was now engaged in a lively phone conversation on the day of rest.
This story is a perfect illustration of what is happening in Gondar's Falash Mura community – it is all one big show staged by those far away from Ethiopia.
The people in Ethiopia - Christians who are asked to play dress up as kosher Jews - have nothing to do with Judaism. They are victims of cynical Israeli politicians and part of a flourishing business running private conversion centers in Israel. Everyone is making bank off these people's distress, need, and desire to improve their dismal lot by leaving their impoverished home country.
At the end of the day, this is a sad story of humanity that has been exploited by politicians. If they are Jews, bring them to Israel now. If they are not Jews, then what is the point of this piecemeal aliya, where thousands of people are still waiting in vain to reach the promised land.
Tell these people the truth: Thank you for coming to Gondar and waiting for seven or eight years, but now you must go back to your village. For as long as this option to come to Israel exists, it both harms Israeli society and causes suffering to the people themselves.
This immigration is ripping the Israeli Ethiopian community apart, dividing it into two camps: Ethiopian Jews and Falash Mura. The Israeli government encourages this rift, which helps it to achieve its goal of dividing and ruling the black community.
Anyone who has already immigrated to Israel and handed over the pound of flesh demanded by the various conversion institutes is a Jew in every conceivable way, and an inseparable part of the community. But the time has come for MKs from Jewish Home and the other parties in the next Netanyahu government to take a stand and make stopping the immigration one of their demands for joining the coalition.
This is an opportunity to put an end to this sad saga once and for all.