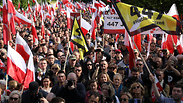 Poles demonstrate against compensation to Jews
Photo: Reuters
Poland nixes Israeli delegation visit in row over Holocaust compensation
Warsaw says it has no interest in discussing property restitution, which appeared to be focus of trip following last-minute changes by Jerusalem; Polish PM: We will not pay compensation for property lost during World War II, we were also victims of Nazis
Poland has canceled the visit of a delegation of Israeli officials from the Ministry of Social Equality, which was due to take place Monday to discuss restitution for property confiscated from Jews during the Holocaust.
In a tweet Sunday, the Polish Ministry of Foreign Affairs claimed last-minute changes to the composition of the delegation suggested talks would primarily focus on property restitution, something the Polish government has no interest in doing.
Polish Prime Minister Mateusz Morawiecki said in a political gathering Saturday that his country will not pay compensation for property lost in the Second World War and that Poland itself was a victim of the Nazis.
Poland decided to cancel the visit of Israeli officials after the Israeli side made last minute changes in the composition of the delegation suggesting that the talks would primarily focus on the issues related to property restitution.

➡️ https://t.co/LFg1EBk16k pic.twitter.com/jR8pLfjeFs

— Ministry of Foreign Affairs (@PolandMFA) May 12, 2019
In what was described as the largest anti-Jewish demonstration in years, Polish nationalists marched to the American embassy in Warsaw, in protest of the so called JUST Act, signed into law by President Donald Trump last year requiring the State Department report to Congress on the state of restitution of property stolen in the Holocaust in dozens of countries.
Protesters carried banners saying Poland has no commitment and that the US is hypocritical in its efforts to benefit Jews.
The question of restitution has become a major campaign issue in advance of the European Union elections due later this month and the Polish general elections to take place by November 2019.
Polish nationalists claim if restitution is approved, the Polish economy stands to lose up to $300 billion.
Poland was once home to 3.3 million Jews, but most were murdered by Nazi Germany during the Holocaust. Their properties were often looted by Germans and later nationalized by the communist regime. Some Jewish organizations have been seeking restitution of the properties.
According to the Conference on Jewish Material Claims Against Germany (The Claims Conference) Poland is the only EU member that has not passed any laws regulating restitution for Jewish Holocaust survivors and their families.