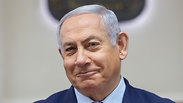 PM Netanyahu
Photo: Emil Salman
The bottom line is: the chance that Prime Minister Benjamin Netanyahu will face trial on any of the three corruption cases pending against him, are close to none.

The recently elected Knesset has enough supporters of the PM who will back any legislation to protect him from prosecution. The question is at what cost?

Will other cabinet ministers and members of Knesset, who may also face criminal proceedings, benefit from the proposed law?

Will whatever deals coalition partners make, be outlined in the coalition agreements as required by law or will they be agreed on unofficially?

Will the price be no military service for ultra-Orthodox and no open businesses on Shabbat, as religious parties insist?

Will it be annexation of settlements, as the hard-right insists?

What is the Knesset for if not to provide criminals with sanctuary?

The cherry on top of the coalition agreements being prepared, is the proposed law allowing members of Knesset to overturn supreme court ruling, with only a regular majority.

This would cancel any and all checks and balances that had always protected Israelis against government tyranny.

Netanyahu finds the ground has been laid out for him. The court's standing has been eroded over the years, by two great legal minds. One a supreme court justice whose legislative activism agenda was seen as a condescension towards other views: Aharon Barak

And on the other hand, a professor of law who made restricting the reach of the court, his life's mission: Daniel Friedman.

Politicians have harnessed both arguments for their own purposes.

Attorney General, Avichai Mandelblit is walking a fine line. He understands any slip, on his part will be punished by an injunction to the supreme court. He was dragged into the fight when he agreed to hold off until after the 2019 elections, handing over material to the prime minister's lawyers. Since then, his attempts to schedule a hearing before indictment, for Netanyahu have failed.

The Prime Minister's attorneys are cynical. Knowing their client's legislative agenda, they are playing for time.

Netanyahu claimed a hearing will clear any suspicions against him but now he is stalling using any means at his disposal, to put a hearing off until he can pass the laws that will protect him from prosecution.

No Attorney General can ever be strong enough to resist such moves by a prime minister and supporters such as the far-right members of Knesset.

The irreversible harm to the rule of law, values, and the institutions of Israeli democracy, is a high price to pay, just to save one man's skin.