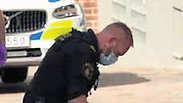 The scene of the attack in Helsingborg
Danish police on Wednesday arrested a man suspected of carrying out a brutal stabbing of a member of the Jewish community in southern Sweden a day earlier.

According to reports, Michal Bat Ruth, who is married to a prominent member of the Swedish Jewish community, was stabbed nine times in the attack in the city of Helsingborg. She is reportedly in serious condition.

The suspect was detained after fleeing into neighboring Denmark. He has yet to be identified.

According to reports, Swedish police indicated that the attack was unlikely to have been a hate crime, as the suspect was known to them and there did not seem to be a clear motive for the attack.

Police have apparently video footage of the attack from a nearby security camera, reports said.

Israeli media reported that Sweden has bolstered security around Jewish institutions in Helsingborg.

President Reuven Rivlin condemned the attack, writing in a tweet in English on Tuesday that, "(o)nce again, Jews in Europe are in danger."

"Today's brutal stabbing of a woman in Helsingborg, Sweden reminds us that we cannot rely on fading memories of the Holocaust to keep today's Jewish communities safe," the president said. "Our thoughts and prayers are with the injured, her family and community."

A member of the Swedish Jewish communtiy told Israeli newspaper Israel Hayom that there is a great deal of anti-Jewish sentiment in the country.

"The situation is bad," Roy Tannenbaum told the paper Tuesday. "There is a lot of anti-Semitism in Sweden and in the Malmo area in particular, many Jews have left to the capital and some made Aliyah to Israel. Unfortunately, a woman paid the price for this today."