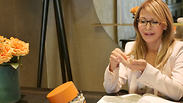 The Cannes Film Festival is known for its glamour and glitz with movie starts descending on this French Riviera town for one week in May.

Helping these famous faces stay pristine is Israeli beauty guru Ronit Raphael, whose luxe beauty establishment - located in Hotel Martinez - is a favorite of such stars as Julianne Moore and Elle Fanning, who book their treatments months in advance.

Raphael was born in Moshav Pedaya in central Israel in 1966 and opened her first beauty parlour in 1986 when she was just 20 years old. The business turned out to be a dizzying success and in the years to come she opened a chain of beauty salons across Israel.

In 2005 she opened two beauty treatment centers in Switzerland under the brand name of her company L.RAPHAEL.

Raphael, the pioneer of "the science of beauty" uses the latest technologies and the highest quality ingredients to enable the penetration of the products deep beneath the surface of the skin in order to boost collagen production, which decreases with age but is essential for maintaining younger-looking skin.

The Swiss-based business woman took this year's 72nd film festival as an opportunity to launch a new product from her five-star beauty brand - the Diamond Powder Mask - which was created in collaboration with the jewellery house, Chopard jewels.

"It's the perfect mask to prepare your skin and show off your perfect glow on the red carpet," said Raphael.

The company also launched a skincare collection enriched with Green encapsulated oxygen Caviar which has dermatological benefits that slows the aging processes.

"Usually there is one to two years between the launch of a new treatment and its corresponding skincare line. We are so pleased to offer both at the same time so the benefits of this innovative treatment can be enhanced with use of the skincare line at home," said Raphael to the Hollywood Reporter.

L.RAPHAEL is the first brand to offer comprehensive services dedicated to beauty under one roof in its spas around the world, including Geneva, Cannes, New York and Jaffa.