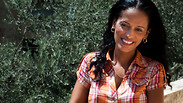 Vered Achihon
Photo: Nathan Roi
Thirty-five years ago, Vered Achihon made an exhausting journey. Along with her parents and five brothers, she left Ethiopia, passed through Sudan on foot, and arrived in Israel. Today, as the Director of Social Integration for all residents of Jewish Agency Absorption Centers, she shares her story with them and models the values that lead to smoother absorption into Israeli society.

"I got to Israel when I was four, after a journey that took several months," says Achihon, now 39.

"We lived in an absorption center in Atlit for a year and a half. From there we moved to public housing in Migdal HaEmek. That's where I grew up and finished high school. My late father didn't like to talk about the difficult journey. I think it was because he had persuaded his two sisters to come with us. They were widows and he didn't want to leave them behind in Ethiopia. But they died on the way, and ever since he felt awful."

Asked what motivated her family to immigrate to Israel, she says: "My father told me 'I made aliyah at an advanced age and there isn't much I can do independently, but I came for my children.' My parents truly did ensure we were each educated, so that we could be successful. It was part of how we grew up."
From Volunteer to Director
After finishing her BA in Communications from Haifa University at age 23, Achihon started volunteering at an Absorption Center in Ayelet Hashachar, "and somehow I ended up working for The Jewish Agency," she remembers. "It wasn't something I planned, but I figured it was worth trying."
Over the years, Achihon has served many roles, including time as the youngest-ever Absorption Center director. Today, she serves as the Social Integration Director for 22 Jewish Agency Absorption Centers across the country.
According to Jewish Agency data, every year tens of thousands of immigrants make aliyah from around 80 countries. The first stop for many of them is a Jewish Agency Absorption Center. There, they study Hebrew and receive a variety of services to help them adjust to Israeli society. Achihon guides them through their first steps in Israel and helps develop a range of educational programs and enrichment activities to prepare the children for Israeli schools and the adults to join the work force.
It's all about attitude
"I develop programs for immigrants from Western countries and from Ethiopia so they can successfully integrate into society," Achihon says. "The process I underwent myself helps me contribute to others' understanding of ways to smooth their acculturation."
Achihon says that in discussions with immigrants, she emphasizes the importance of education. "I tell them about my own story and emphasize that the government makes it possible for them to study and succeed, but everything hinges on your perspective as a person, and how you want to succeed.
"It's hard work, and the question is: what route do you want to take? You can be bitter and say 'things are bad for me,' or you can take matters into your hands. I did a master's degree while working. It's possible to study and develop at any stage of life, and it's possible to integrate into Israeli society in the best way. It's the personal undertaking of each and every immigrant."
She talks to immigrants with optimism, but also puts the problems on the table.
"My parents said 'we left everything we had so our children's lives could be better. We will push them in school and try to give them an environment where they can bloom, rather than fade.' As the daughter of parents who made aliyah late in life, I let the older immigrants know that it will probably be harder for them to overcome cultural barriers.
"For a person who comes to a new country at age 50-60, it's very hard to learn the language and find work, so they are making a huge sacrifice, and it doesn't matter what country you came from. On the other hand, I can tell them that they are giving their children a chance to be part of Israeli society."
In partnership with The Jewish Agency for Israel