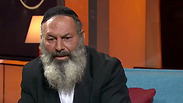 Avraham Sinai (Photo: courtesy of Israeli Channel 20)
Photo: Channel 20
From Hezbollah spy to Haredi farmer
Avraham Sinai's life story is staggering - he was born Ibrahaim Yassin in Lebanon, and fled to Israel with his family after years of spying on the country's most notorious terrorists; today he is a 55-year-old rabbi who lives in Safed, where he is planning his latest venture, a goat farm
In northern Israel, in the serene spirituality of Safed, lives a man whose past was anything but serene or spiritual. Today he is 55-year-old ultra-Orthodox Rabbi Avraham Sinai, a father and grandfather living in a caravan on the outskirts of the city. But in another life not too long ago, he was an Israeli spy inside Hezbollah named Ibrahim Yassin.
Sinai's story began 36 years ago, when he was 19-year-old cattle farmer Ibrahim Yassin, who had a pregnant wife named Diba. Ibrahim was away from home taking his cattle to graze when Diba went into labor without him.
With no midwife or hospital nearby, the Yassin family turned to the IDF forces who were occupying Southern Lebanon for help. Tzachi Bareket, an officer in IDF's Intelligence Unit and a farmer himself, led his forces into the village to help, breaking several army regulations.
Neither Tzachi nor Ibrahim imagined that this would be the beginning of a lifelong friendship.
Even now, Bareket remains careful not to reveal details of past operations. He delivered the baby on that day in 1983, and then arranged for mother and child to be taken to hospital in Israel.
"I came home," Sinai recalls, "and was told my wife had given birth. Two days later my brother who was in the Israeli-backed South Lebanese Army, brought her home."
Bareket and Sinai had not met at this point, but the IDF intelligence officer was always on the lookout for Lebanese people who could help the Israelis in their fight.
"One day I spotted a cattle farmer," Bareket says. "In this line of work, we learned how to spot people we may be able to work with. I knew that he could be a good fit. In the course of our conversation he realized that I was the Israeli who had delivered his son."
Sinai - who hated the Palestinian militants in south Lebanon - began working for the Israeli military.
"The Palestinians controlled the area and they terrified us," he says. "Once they lit a fire in someone's yard, burned him alive and ate him in front of my eyes. They would bring men into villages to torment women. They killed a girl by tying her to two cars and driving them in different directions."
Sinai says his decision to work for Israel was in fact his way of helping himself.
"When I called Tzachi to tell him about terrorists, I knew that they would be chased from my village, and that suited me fine," he says.
"I considered Tzachi and I to be partners. I gave him valuable information and he gave me fuel for my car and a document so that I wouldn't be stopped at checkpoints. He gave me a rifle seized from the Palestinians. Any time anything bothered me, I had someone to turn to."
After two and a half years as Yassin's case officer, Bareket was reassigned to another unit, but Sinai's connection to Israel did not escape the attention of the terrorist groups in Lebanon, including Hezbollah.
In 1985, Sinai was abducted from his home by agents of the terror organizations. He was released months later, but not before his 8-month-old son was burnt to death in front of his eyes.
To this day he cannot forget the torturous interrogations at the hands of Imad Mughniyah, a senior member of the Iranian-backed Hezbollah assassinated - allegedly by the IDF - in 2008.
"The day my son was burnt alive, I had lost consciousness from the beatings I received, only to wake up and see the fire," Sinai says.
He says his wife told him not to discuss the baby again. "'That door has closed,' she told me."
For months after, Sinai sank into a deep depression, and it was his father who slowly brought him back to life.
A desire for vengeance prompted Sinai to call Tzachi, his old IDF handler.
"My wife came to me," Bareket says, "and told me Sinai wanted to continue working with us. He could not contact me directly at the time."
Sinai: "Under the protection of the Israelis and with their knowledge I entered the ranks of Hezbollah. I lived in a town that was practically owned by Hezbollah (but) they didn't know of my connection to Israel. My handler at the time was Yoav 'Poli' Mordechai, who would later become the IDF spokesperson."
His relationship with Mordechai also extended beyond their mission. "Poli helped me a lot," Sinai says. "When my daughter died soon after birth, Poli sent my wife injections so that the next pregnancy would go well."
Sinai recalls being imprisoned in Syria in 1989, spending a year in prison for suspicious activity. "I was held in a state prison, so my parents could come and visit me," he says. "But the torture was just as bad."
After his release, Sinai continued to spy on Hezbollah for Israel for another seven more years. He claims to have provided information that led to the assassination of former Hezbollah leader Abbas Musawi.
With so many of its key figures being assassinated, Hezbollah began looking for spies, and in 1997, Sinai and his family were smuggled out of Lebanon.
Sinai's life experiences led him closer to religion. During his time in Hezbollah, he became interested in the Quran, and when he arrived in Israel he visited the synagogue close to his home. In 2001, he decided to convert to Judaism.
For the past two years, Sinai has lived apart from his wife, Ziva. She was named Diba when she followed him out of Lebanon, leaving her family behind, and changed it when she also chose to convert to Judaism.
Today, only his eldest son, Haim, and his youngest child, Sara, are ultra-Orthodox. Haim, born Mohammed, was 14 years old when they arrived in Israel. The rest of his seven children all live secular lives.
Sinai now lives off a pension from the IDF and gives lectures about his life as a Hezbollah spy working for Israeli Intelligence. He is a close friend of Safed Chief Rabbi Shmuel Eliyahu and four years ago even ran (unsuccessfully) for a seat on the city council.
Sinai's life story caught the attention of Israeli director Itamar Chen, who convinced him to put his astonishing tale on camera. The documentary, "The Rabbi from Hezbollah," is being shown at Tel Aviv's DocAviv festival this week.
"Avraham has some Forrest Gump characteristics to him," says Chen. "He is a sensitive man who has been through unimaginable situations."
In the caravan he now calls home, Sinai says that there is more to his story than he previously revealed, some of which is in Chen's documentary.
"My children do not know everything about me," he says. "My sons look up to me because of my work with the army; they too served in the IDF. There are many things in the film they knew nothing about. Even my wife never knew the details of the things I had done."
Bareket agrees, as he stares at an old photo from their time together in Lebanon. "Sinai did things that fighters in elite military units do not do," he says.
The two men resumed their friendship not long after Sinai arrived in Israel in 1997.
"I was trying to contact him, but I only knew his name was Tzachi," Sinai says. "Then on an Muslim festival, he called to wish me a happy holiday."
Bareket: "We are not friends, we are brothers. When he lectures all over the country I come to give a short introduction. Only then he walks in with his ultra-Orthodox garb and everyone is shocked. He lectures to the intelligence community and only when addressing a classified unit does he speak freely."
The former spy is an unusual character, full of contradiction. He is both very outgoing and at the same time enjoys wandering in the wilderness for solitude and prayer.
At the moment, he is building bee hives and a goat and chicken farm.