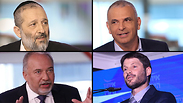 Deri, Kahlon, Liberman, Smotrich
Photo: Avi Moalem, Shaul Golan
Haredim accept compromise proposal, Liberman digs in
Council of Torah Sages agree to accept draft quotas for Yeshiva students, a decision clearing the way for the establishment of a government coalition, however, Yisrael Beytenu's Avigdor Liberman insists he won't compromise on the original draft bill
Yahadut Hatorah's Council of Torah Sages met Sunday evening and approved a compromise that may pave the way for Prime Minister Benjamin Netanyahu to form coalition government. The compromise formulated by former minister (Shas) Ariel Atias, and received backing from Netanyahu, involves agreeing to minimum quotas for drafting Yeshiva students into the IDF. However, Yisrael Beytenu chairman Avigdor Liberman said in response that he is not willing to compromise on this fundamental issue.

Liberman said that he views the prime minister's invitation earlier Sunday to a one-on-one meeting to try to solve the impasse as an attempt to portray him and his party as responsible for the failure to form a coalition and forcing the country to go to the polls again.

Liberman said that the responsibility for the failure to form a government rests solely on the shoulders of Netanyahu and the Likud Party. "We would expect that the prime minister apply pressure to the Haredi parties and the rabbi's backing them," he said.

On Sunday afternoon, Netanyahu invited the various party heads to one-on-one meetings with him in order to prevent having to call for "needless elections." He began by meeting with Finance Minister Moshe Kahlon.

Likud ministers met earlier for a briefing regarding the current political situation. Netanyahu said that he is working to establish a right-wing government and "prevent unnecessary repeat elections." Netanyahu also said that he is interested in having Moshe Kahlon's Kulanu party run together with the Likud on the same list in the event repeat elections are called for— probably to avoid having the president assign the task of forming a coalition on another MK.

At the same time, the rabbinical council of the Agudat Yisrael faction of the Yahadut Hatorah Party, led by the Rebbe of Gur, met to discuss the compromise to the draft bill proposed by former minister Ariel Atias. The compromise involves the rabbis agreeing to draft and national service quotas for Yeshiva students on condition that the matter be carried out by a government decision, and not written into the law itself, making it easier to change details if necessary.

Shas and the Degel Hatorah faction supported the compromise from the outset, believing that it is consistent with the Haredi interest and will not harm Torah students. The meeting was to see if the Agudah faction can live with it as well. Now that they too accept the deal, if the country ultimately goes to the polls again, blame will most likely be directed at Liberman.

Earlier, a Shas spokesman said that the bill is not the issue and Liberman is only using it as an excuse to bring down a right-wing government. Liberman said that as far as he's concerned the Haredi delegates can leave the Knesset chamber during a vote, as long as all other coalition members are committed to supporting the original version of the bill.