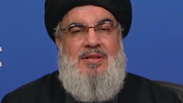 Hassan Nasrallah
Photo: AFP
Hezbollah is facing its worst economic crisis yet, after U.S. sanctions on Iran imposed last year resulted in funding cut to Tehran's Lebanese proxy organization.

The latest round of American sanctions targeted Iran's oil revenue, with the aim of cutting them down to zero. Hezbollah's concern is that its annual income from Iran, totaling $700 million, which comes mostly from Iranian oil revenue will stop. Monthly air shipments of cash from Tehran have already been cut in half.

Hezbollah's troubles stem not only from Iran's economic woes. The organization itself is now sanctioned by the U.S., their financial transactions are under strict scrutiny with all bank accounts and fundraising being monitored.

The group's leader, Hassan Nasrallah, last month appealed for donations - for the first time ever - in a public address to members and supporters. A foundation named "Support for the Resistance" was set up in Lebanon to raise badly needed capital.

Now, for the first time since its inception 36 years ago, Hezbollah is cutting salaries to its fighters. Some have been receiving just two-thirds of their usual pay for the past three months, and half of all reserve fighters have been let go.

According to reports, Hezbollah is also selling off property. Apartments have been sold in its southern Beirut stronghold of Dahia and in the Beqaa Valley city of Baalbek. Some services provided to fighters and their families have also been stopped.

The organization's propaganda wing is under economic pressure as well. Al Manar, Hezbollah's cable television network and A Nur, its radio station, have both had to lay staff off and cut pay to others.

But not only sanctions are to blame for Hezbollah's economic troubles. Years of fighting in Syria to prop up the regime of Bashar Assad, another Iranian ally, cost the organization dearly both in money and in lives.

Families of the estimated 2,000 fighters killed in Syria have been given financial aid by Hezbollah, as have the families of those killed in confrontations with Israeli forces. Now that aid has been reduced too.

Another factor contributing to Hezbollah's troubles is the position taken by the oil-rich Gulf states - Iran's foes in the region - with Saudi Arabia leading Sunni countries in an economic siege of the organization.

The American financial offensive, meanwhile, is against the axis of Iran, Syria and Hezbollah.

Assad's regime has been under sanctions since 2011. Considering him a war criminal, the European Union joined in with their own sanctions. Syrian business leaders close to the regime have been black-listed and are unable to raise cash.

The Syrian crisis is dire: The country is suffering oil shortages and runaway prices while the country's main benefactor, Russia has not been able to provide the funds needed to rebuild after years of relentless civil war.

The American administration speaks the language of money. They are promoting the "deal of the century" and their offensive is financial. The noose around Hezbollah's neck is tightening.

The "Deal of the Century" itself may not enjoy as much regional support as efforts to break Hezbollah. So for now at least, any Hezbollah offensive against Israel on the Golan Heights will likely be put on hold. They simply cannot afford it.