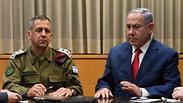 PM Benjamin Netanyahu and IDF Chief of Staff Aviv Kochavi
Photo: Defense Ministry
The election campaign that has just been dropped on Israelis has both positive and negative aspects in the eyes of the country's defense establishment.

With respect to the decision-making mechanisms, the interim government already in place since December 2018 posed no problem before and will pose none after the vote to dissolve the government.

The security cabinet, headed by Prime Minister Benjamin Netanyahu, will remain in place at least until the end of the year with him still at its helm.

But regarding the military's long-term preparedness and planning the decision will not be made for a while. Each of the fronts Israel is facing brings its own sets of challenges.

All of Israel's enemies are familiar with Netanyahu and understand that his word is final on all matters of Israel's security - be it the northern border, inside Syria, in Gaza or in the West Bank. Now more than ever he will react forcefully to any disturbance, violation or casualty with his re-election coming up on September 17.

Netanyahu also needs the votes from the right if he wants to increase his electorate and avoid being squeezed again by Avigdor Liberman or any of his other "natural allies". This is very clear to the leaders of Hamas, the Islamic Jihad, Iran's al-Quds forces in Syria, Syrian President Bashar Assad and Hezbollah leader Hassan Nasrallah.

Hamas leader Yahya Sinwar can challenge Israel just a little bit more into making further concessions. Netanyahu will likely ignore the fire bombs sent over from Gaza by air, as well as minor nuisances on the border fence, as long as another round of rocket attacks, mostly targeting residents of Israel's south - traditionally Likud voters - is avoided.

Sinwar was expecting a large military operation against Gaza to be launched after formation of a new Israeli government.

Islamic Jihad's Gaza commander Ziad Nahala spoke about that eventuality as well warning there will be a war over the summer if efforts at a long-term understanding between Israel and the Gaza factions is not reached.

Regardless of IDF intentions to fight in Gaza, or Israel's strategic aims for such an operation, Sinwar was certain until Thursday night that he must be careful not to provoke the Israelis, and exerted pressure on the other factions, Islamic Jihad first and foremost, to remain quiet and allow talks with Israel to continue.

After the vote to dissolve the Knesset and head for new elections, Sinwar, I believe, sat back in his chair and told himself nothing would happen over the summer. Netanyahu will not risk a ground offensive that would surely cause casualties and incur the world's ire, when he needs every vote he can get for his next elections.

The price of course, may be exacted from Israelis living along the Gaza border, with their fields continuing to burn and rockets flying towards them. New elections do not bode well for them.




On the West Bank, it is Palestinian President Mahmoud Abbas who should be worried. His people are in constant collision with the settlers, the vast majority of whom are hard-right voters, who, Netanyahu relies on heavily. No concessions are expected from him there.

The West Bank is seething from the financial burden compounded by Israel withholding tax revenue as well as Washington's decision to cut funding to the Palestinian Authority.

There is already 20% unemployment among young people in the northern parts of the West Bank, and as pressure grows, the battle for 83-year-old Abbas's successor as president becomes more evident.

Netanyahu is aware that some lifting of restrictions on Palestinians can return calm to the West Bank, but his political allies will not allow him to make any changes on the ground.

In the North, facing the Iran-led radical Shi'ite axis, new elections are not expected to have much effect.

The United States took over reactions to the Iranian threat weeks ago, allowing Israel to take a back seat and refrain from increasing tensions in the area. It would be to Israel's advantage if the Gulf states are the ones to demand U.S. action against Iran.

Tehran is fully aware of the Israeli public support Netanyahu enjoys when it comes to his policies on Iran, so any attempt on their part to use this election period to move ahead on their missile enhancement projects in Lebanon and Syria will be met with the full might of the IDF.

Hezbollah is suffering from an economic crisis. While Iran is facing Russian opposition to their plans in Syria and U.S. naval vessels and troops are being dispatched to the Persian Gulf. This cannot be seen this as an opportune time to confront Israel. The Ayatollah's are patient men. They have time.

The Trump peace plan will however be affected by the snap elections in Israel, despite Netanyahu's denials Thursday.

The Bahrain economic workshop held to raise money for Palestinians will take place next month, but it's the political part of the deal will not be revealed before a new government is formed in December 2019, if at all.