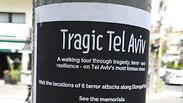 Leaflet advertising free guided tours to sites of terror attacks.
Photo: Shai Sapir
'Terror tour' of Tel Aviv revives city's troubled history
Yaakov Levi says his new free guided visits to sites of terror attacks, including mass casualty suicide bombing at Dizengoff Center in 1996, are motivated by his desire to keep the memory of the terrible events and their victims alive in people's memories
A Tel Aviv tour guide is determined to preserve the memories of terror attacks in the city with his new one-man tour. The "Tragic Tel Aviv" pamphlets are dotted across the city, advertising Yakov Levi's one-man initiative for guided tours at the sites of major terror attacks.
"I have lived here during the 1990s when several of these attacks took place," Levi tells Ynet. "I was witness to some of these attacks and that is part of our life here. We should not ignore or forget that."
"The tours are for one or two people at a time, I give them a personal tour, sometimes they just come out of curiosity and sometimes because they truly want to be aware of what has happened here," he says.
"It's like a small version of Yad Vashem (Holocaust Remembrance Center in Jerusalem). There are different reasons for people to come, but they do come."
Levi says he came up with the idea about six months ago and, having done his research, began offering his tours this spring.
"People who have not attended the tours attacked me, insulted me and tore up my leaflets - all because they believed I was mocking the memory of the victims or exploiting the terrorism for financial gain," Levi says.
"But those who have done the tour appreciate the fact that I keep the memories alive and honor the victims."
Levi stresses that the tours are free.
"If you want to leave a tip you can," he says. "This is my initiative alone. There is no organization behind the tours."
At first, the family of a terror victim complained to Levi that his leaflets were sensational and ghoulish.
Levi says he understood and worked with the family to design new pamphlets that would be more appropriate.
"If terror victims and their families are unhappy with my work, I will have failed," he says.
"The most important aspect of this initiative is to honor the victims."