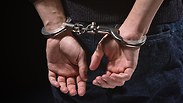 illustration (Photo: Shutterstock)
Phoot: Shutterstock
The Justice Ministry's cyber division filed an indictment, Thursday in Jerusalem District Court, against a civil servant suspected of stealing and passing on secret and top secret information.

The suspect, who was not named, was investigated by the national crimes and corruption unit of the Israel Police.

The civil servant will remain in custody for the time being.

No further information was available.