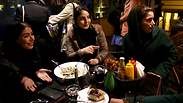 Iranian women in a restraunt wearing modern hijabs
Photo: AP
Iran reinforces morality police force amid crackdown on violation of 'Islamic principles'
Pilots units comprised of women become 'resistance groups for verbal and practical response to bad-hijabi women' in north-eastern province; Hundreds of Tehran restaurants shut down for breaking religious customs
Iran has reportedly added some 2,000 new police units to its morality task force, implementing a pilot program in order to monitor women's wearing of headscarves amid an apparent rise in protest against the Islamic Republic's laws that mandate women wear a veil in public spaces.

The British Telegraph reported Friday that the pilot program, with units in the northern Gilan province comprised of six women each, will act as "resistance groups for verbal and practical response to bad-hijabi women.


Officers in the new units will be authorized to arrest women considered in violation of the strict Islamic dress code. Violators are typically fined and given up to two months in prison.

Under the Islamic dress code of Iran, women can only show their face, hands and feet in public, and they are supposed to wear modest colors.

Prominent Iranian human rights lawyer Nasrin Sotudeh was sentenced last month to seven years in prison for defending women protesting the hijab laws.

Meanwhile, police in Tehran conducted a 10-day campaign over the last week and a half --shutting down 547 restaurants and cafes found not observing "Islamic principles," Tehran's police chief said Saturday.

"The owners of restaurants and cafes in which Islamic principles were not observed were confronted, and during this operation 547 businesses were closed and 11 offenders arrested," Hossein Rahimi said, quoted on the police's website.

Iran's Fars news agency reported the operation was carried out over the last week and a half.

Businesses were found in violation for several infractions, including "unconventional advertising in cyberspace, playing illegal music and debauchery," according to the report.

Also on Saturday, the head of Tehran's guidance court, which deals with "cultural crimes and social and moral corruption", called on Tehran citizens to report cases of "immoral behavior" by texting a designated phone number.

"People would like to report those breaking the norms but they don't know how... We decided to accelerate dealing with instances of public immoral acts," Mohammad Mehdi Hajmohammadi told the judiciary's Mizan Online.

Citizens are urged to report sightings of women removing "hijab in cars", "hosting mixed dance parties" or posting "immoral content on Instagram,"he said.