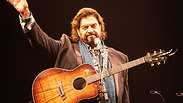 Earlier this month, Grammy award-winning progressive rock musician Alan Parsons, together with his ensemble of musicians, played two concerts together with the Israel Philharmonic Orchestra to packed audiences filling the Charles Bronfman Auditorium.
Follow Ynetnews on Facebook STRONG> and Twitter

The IPO was conducted by Mr. Parsons' energetic keyboardist and arranger, Tom Brooks.



The performance began with a number from Parsons' newest album, The Secret, which was released just this year. The theme of the album is magic and miracles, and the songs are a bit mellower than the ones which propelled The Alan Parsons Project to fame.
And those songs -- including greatest hits "I Wouldn't Want To Be Like You," "Sirius," "Silence" and "Time," most sung by lead vocalist P.J. Olsson -- certainly were among the highlights of the evening.
Another crowd favorite was the Parsons' version of Paul Dukas' famous symphonic poem The Sorcerer's Apprentice, which first received worldwide global recognition with Mickey Mouse as the hapless apprentice in the animated movie classic Fantasia.
The piece everyone was waiting for finally came at the end of the show: mega-hit "Eye in the Sky," for which Parsons descended from his perch to join Olsson and the rest of the musicians at the front of the stage.
Except, to everyone's delight, that was not the finale. Following sustained applause, Parsons et al reappeared for an encore. This in itself was not a surprise; but the fact that what turned out to be a third set lasted for another 20 minutes -- and featured terrific electric guitar riffs from lead guitarist Jeff Kollman, as well as powerful saxophone solos by Todd Cooper -- was nothing short of amazing.
The next guest artist scheduled to appear with the Israel Philharmonic Orchestra is another Grammy award-winning artist, albeit in a very different genre: American classical violinist Joshua Bell, who will perform a series of concerts with the IPO in Tel Aviv, Jerusalem and Haifa during the week of June 19-25.