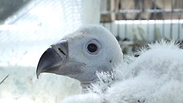 A vulture chick
Photo: Erez Erlichman
The Hai-Bar Nature Reserve on Carmel Mountain is the last hope for Israel's rare vulture chicks, with a team that works around the clock to make sure the birds grow up healthy, so they can make it back to the wild. We visited them to learn about their unique routine of serving as "mother vulture" to a new generation of endangered birds.

At 6:45 am, we made our way to the reserve to witness its vultures have their early breakfast. Some of the morning crowd sport numbered tags, indicating they hatched right here in the park and successfully acclimated in the wild.

The Israeli vulture community suffered a major blow last month, when 10 of the birds were poisoned on the Golan Heights. Eight of them died, nearly ending the plateau's vulture population; only 150 vultures are estimated to still live in Israel, in comparison to 460 in 2003.

Due to the small remaining population, eggs laid by vultures that live in captivity are either sent here to the reserve or to the Jerusalem Biblical Zoo to hatch, in order to make sure the chicks survive.

Whenever possible, the parents get their hatched chicks to raise until they can be released in the wild; but if that's not possible, Hai-Bar is responsible for parenting these young rare vultures and making sure they grow up to become independent adults.

This morning, the park's team gets the food ready for vultures of all ages; small pieces of meat for the chicks and whole carcasses for the grown-ups who fly in for a visit.

In a cool white building in the middle of the reserve, the team raises the young generation of vultures and Egyptian vultures. Strict silence is maintained, and one can't help but smile when seeing a bald chick being fed by a puppet with a stuffed head imitating its mother.

Today on the menu: rat pieces, full of protein and calcium; just what the five vulture and two Egyptian Vulture chicks need.

"First, we feed them four times a day manually, then two, and finally once a day. The type of food changes according to their needs," says Yigal Miller of Israel's Parks and Nature Authority, who's in charge of the project.

"They're like orphans, we also have to take care of the social aspect of their lives," he says, and points to a grown-up vulture who lives in a cage right next to the chicks, so they can get used to their kind.

"We try to raise a few chicks together, to create a kindergarten-like environment. The care-takers handle and touch them using the stuffed vulture, but of course we know nothing can match their real mother and father."

When the chicks grow up, at 120-140 days old, they start eating on their own in a large open cage. Later on, they start getting full carcasses that simulate the kind they will be eating in the wild. Finally, they are moved to a special cage that mimics the wild for a year or two, and then are then set free, when the time is right.

"Vultures are social animals," says Miller. "They come and visit their friends that still live in reserve cages. They come back and spend time here, and even stay over for a slumber party on the roof sometimes."