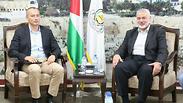 Ismail Haniyeh Hamas leader with UN envoy Nickolai Mladenov
A Qatari delegation entered the Gaza Strip on Sunday night to deliver $15 million in relief funds for Palestinians residing in the coastal enclave, according to several reports. Another $10 million was transferred to Israel to fund the purchase of fuel for Gaza's power plant.

Palestinian media reported that Khaled Al-Khardan, deputy to envoy Mohammed Al-Emadi, headed the delegation as Al-Emadi was delayed in Israel in order to continue talks with Israeli authorities. He eventually arrived in Gaza around 10:30 pm Sunday.




Al-Emadi entered Gaza via the Erez Crossing with Israel, and was set to remain in the Strip for two days. During that time, he will meet with Hamas officials and also take part personally in the distribution of funds to Gaza residents.

Of the funds transferred to Gaza, $10 million will be allocated to Gazan families, with each receiving $100, the other $5 million will go to the UN-funded program "Cash for Work."


Tensions along the Israel-Gaza border have been increasing in recent days, with an uptick in the number of incendiary balloons sent from Gaza into the nearby Israeli border communities.

In a meeting held Friday with Hamas leader Ismail Haniyeh, UN envoy Nickolay Mladenov reportedly relayed Israel's hope for quiet along the border.

An Egyptian military intelligence delegation is also expected to work towards lowering tensions between Gaza and Israel when it visits the strip next week.