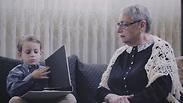 Social Media campaign to find Jewish property in Poland
Photo: Shem Olam
Online campaign urges Poles to unearth seized Jewish property in Poland
Project launched by Israel-based Holocaust research organization urges people to call hotline amid ongoing row between Jerusalem and Warsaw over the question of compensation for Jewish property confiscated or lost during the Holocaust after Polish PM says restitution is 'victory for Hitler'
An online campaign making news in Poland calls on Polish citizens help locate and return Jewish property.

An Israel-based organization, The Shem Olam Faith & the Holocaust Institute for Education Documentation and Research has released a Polish language film on social media, recounting the history of Jews in Poland and requesting the help of Polish citizens to find and return stolen Jewish property.




The online campaign claims it is now time for artifacts, personal effects and other property to be returned "home" to Israel.

The organization also set up a hotline for Polish citizens to report on Jewish property that is now in Polish hands.

The campaign had hundreds of anti-Semitic responses including some which claimed Israel was stealing Palestinian property and murdering Palestinians trying to defend themselves.

No Jewish property has been reported or returned thus far, as a result of the campaign.

The question of Polish restitution for Jewish property taken during the Holocaust, remains a point of contention between the Israeli and Polish governments with the latest crisis occurring last May when an official Israeli delegation was uninvited to visit Poland because it was believed to be looking into the matter.

Polish Prime Minister Mateusz Morawiecki said there will be no restitution because that would "violate international law and would also be a posthumous victory for Hitler".

Shem Olam is a non-profit dealing in Holocaust memory and education.