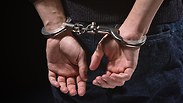 Handcuffs
Phoot: Shutterstock
Sources: Prosecution omits testimony info from indictment in sensitive rape case
Additional inaccuracies between the charge sheet and the testimony of the victim further complicate the alleged sexual assault of the 7 year old, with the girl saying she was taken to the spot of the incident 'in a vehicle' rather than forcefully dragged as prosecution claims
The prosecution in the case of an alleged rape of a seven-year-old girl by a Palestinian man apparently omitted important parts of the young victim's testimony from the official indictment, further complicating the sensitive case and possibly leading to the suspect being released on bail, sources said Wednesday.
The 46-year-old suspect, Mahmoud Katusa from the village of Deir Qaddis, was charged on Sunday with rape under aggravated circumstances, assault and kidnapping after allegedly assaulting a young Jewish girl - from an Israeli settlement in the West Bank - who attended the school at which he was a janitor.
The indictment states that Katusa forcefully dragged the victim, who was crying and trying to escape, to a nearby residence where the alleged assault took place. The sources, however, said the seven-year-old's testimony indicates that she was taken to the location "in a large vehicle." and didn't actually walk there.
In addition, the girl couldn't verify the location of the apartment where the alleged sexual assault occurred. The sources said the police collected at least four testimonies from the young victim and during one of the them, the seven year old apparently drew what the police believed was the scene of the rape.
Furthermore, the special interrogator - trained to collect testimonies from children under the age of 14 - also apparently said she couldn't verify with an utmost certainty whether the victim's identification of Katusa as the perpetrator was credible.
On Tuesday, the police said they've launched a further investigation into the case "in order to investigate the involvement of other possible suspects," after receiving information that Katusa was involved in another incident which occurred in the area.
Although the Military Prosecution is expected to request an extension of the suspect's remand, the Palestinian might be freed on bail due to further inaccuracies being uncovered.
"The investigation material speaks for itself," said the lawyer of the defendant, Nasser Ashraf, on Tuesday after it was revealed the original indictment included the date of the alleged attack, but that was removed from the updated charge sheet after the suspect provided a verified alibi for that time. "This is another Dreyfus Affair," the lawyer added.
The head of the Police Investigations Division, Major General Gadi Siso, has decided to personally handle the case and on Tuesday evening convened an urgent meeting with the relevant officials and held a discussion with State Prosecutor's Office on the matter.
Siso apparently wasn't aware of the case, which was handled by the local police department and the Military Prosecution, until it started gaining major media traction following the filing of the indictment. Police officials initially said that new intelligence information they received is what led to Siso's involvement.
Sources familiar with the case, however, said the real reason behind Siso's insistence on taking over the case is allowing police's Central Intelligence and Investigation Unit to reinvestigate the case.