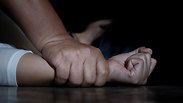 Illustrative image
Photo: Shutterstock
One out of every five girls is sexually assaulted. By age 12, the same proportion of boys suffer such abuses – an assessment that is problematic given that it is based on a low number of complaints, for there are many who keep quiet.
Conversely, one out of every five male politicians go through two political election cycles in less than six months. They do not keep quiet, and are all frantically tweeting from their smartphones urgent and forceful messages to the nation.
This is how they responded to the terrible news of the rape of a seven-year-old girl.
Some managed to maintain a vestige of decorum, like Prime Minister Benjamin Netanyahu, who tweeted that "the shocking rape of a little girl dismays us all," and the new Education Minister Rafi Peretz, who wrote that "our hearts are breaking into pieces."
Then there is the departing Public Security Minister Gilad Erdan, who since the clashes over home demolitions in Umm al-Hiran has not been ashamed to identify a terrorist before the investigation is over, and who declared that "such events must be investigated as nationalistic."
Let's not forget Bezalel Smotrich, the new far-right minister of transport, whose comment was a lament that, "If only we could give this disgusting human being the death penalty," or MK Moti Yogev, who demanded "a life sentence as well as the destruction of the terrorist's house and the deportation of his family."
And the final one to clamber up on the nationalist bandwagon, Avigdor Lieberman, who decreed that, "This isn't pedophilia, but simple terror – a planned attack on a young girl, innocent and helpless."
That this group of men - who do not have a feminist bone in their bodies - are mobilizing on a subject that doesn't interest them, is in the best case scenario just a bad joke.
The worst case scenario is that this is just them postulating and preening at the small bed of a young rape victim.
These politicians had to shove aside a whole host of people to reach her bedside: other rape victims – one out of every five girls and five boys, remember – and their families; the collapsing welfare system with its limited capacity to help; the ones who commit suicide after their chances to get help run out; and the social workers who are earning minimum wage for their efforts.
But the politicians need to be close to the girl, to draw power from her great pain. They need to get a good spot to grab a piece of her pink blanket, to grasp a bit of forensic evidence that will prove this was a hate crime and not child abuse, and to bring proof to their public that there is no better leader than they.
The politicians don't have a choice. They are really only interested in the mass of people that scream at them through Facebook, and demand more and more frenzied condemnations.
That's who they must satisfy. They know very well that they are not showing any honest concern over the fate of the little girl. It's just politics after all.