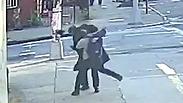 Anti-Semitic attack in New York
A 79-year-old Jewish woman was hit by a metal ball as she exited a synagogue in Paris. She was taken to a nearby hospital in stable condition. The suspected assailant fled and remains at large.

The Council of French Jewish Institutions (CRIF) is treating the incident as an anti-Semitic attack.

The World Jewish Congress said in a statement: "The WJC views this incident in Paris as part of a disturbing trend, not just in France but around the world. We wish the victim a speedy recovery and call on the French authorities to do all in their power to bring the perpetrator to justice.

"The WJC is in contact with its French affiliate, the Conseil Représentatif des Institutions juives de France (CRIF), which has strongly condemned this violent act of aggression and is monitoring the situation closely."

In separate incidents two anti-Semitic incidents were reported in Berlin Tuesday. A young man was accosted by three men in the borough of Steglitz-Zehlendorf. The men asked him about his religion before assaulting and injuring him.

A second incident occurred when a young man wearing a Kippah was verbally assaulted and spit at on a Berlin street.

Both incidents were reported to the police.

Another incident was reported in the Crown Heights neighborhood in Brooklyn when an ultra-Orthodox Jew was shouted at by a passer by who said "Hitler did not kill enough of you, he had the right to kill all of you because (Jews) are rats".

President Trump's anti-Semitism envoy Elan Carr said during an interview Wednesday at the Global Coalition 4 Israel Conference, according to the Jewish Telegraphic Agency: "Any synagogue, every JCC, should have guards. God willing, may they never be needed, but they should be there,"