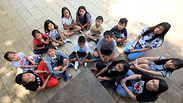 Filipino children, deportation warant
Photo: Shaul Golan
There have been several protests recently by foreign workers, most from the Philippines, trying to prevent their and their children being deported from Israel.

The protests will reach their peak on Monday as dozens of women and their children will converge on Habima Square in Tel Aviv at 5pm. where they will request the government to "let us stay."

Attending the protest will be the schoolmates of the children who are facing deportation and teachers from the 12 different schools that the children attend.

These women (most of them from the Philippines) came to Israel many years ago and have adjusted their life here with jobs that most Israelis don't want; assisting the elderly – parents and grandparents – and cleaning jobs.

Since they arrived, they had no status of any kind, although the government ignored that fact and let them work. During their years here, their children were born and grew up as Israelis in every sense: they learn in and speak fluent Hebrew, all their friends are in Israel, and for them the future is clear: they want to stay in Israel, serve in the army, and become a citizen like everyone else.

In the last few years, the government changed its policy and decided to deport the women and their children (the fathers having long since left for their home country). Because of this, the Population and Immigration Authority has begun a wave of arrests of these foreign workers.

To make bail they must sign an agreement to leave Israel with their children after the school year is over. They were recently given deportation orders that will start next week and finish at the end of August.

They are filled with great despair. One of the women, Marylin May Achiveria, 47, arrived in Israel from the Philippines 14 years ago and took a part-time nursing and cleaning job.

A year after her arrival, her son John Michael was born,and the two now live in Tel Aviv. Marylin has settled here quite well and her son is an Israeli citizen in every way and does not know and other reality.

He studies at the Herzliya Gymnasium in Tel Aviv, and last week he graduated 7th grade. Because of the expected deportation he won't get to move on to the 8th grade.

"This whole situation is very scary to me," says John. "It's hard to think about it and sometimes at night I can't get any sleep. I was born here and grew up here. My future is here. I like Israel and very much want to serve in the IDF. It's been a dream of mine since I was little.

"I don't want to go to a country I don't know. I want to stay here with my friends, and they want me to stay here with them. Don't deport me."

His mother is also worried and fears the unknown future: "As a mother, I want to support my son and give him a better life. It's my duty, and as such, I must prevent this deportation. It's horrible to be deported at 13. He's just a boy and it will stay with him along with psychological hardships and anxiety."

Another candidate for deportation, the mother to a young girl, speaks of her distress: "Our kids are asking – 'What did we do? Why do we deserve this?' They're Israeli citizens and their friends are sad that they're about to be deported," she says.

"My kids asked me, 'What is going to happen? Why are we being deported? I'm moving to the 7th grade soon. How will I get there if they're deporting us?' The girl asks, and I have no answer."

The Population and Immigration Authority said in response that the women were using their children in order to stay in Israel.

"We're talking about foreign citizens prolonging their stay contrary to any law and without any regulated status," the authority said. "In some cases, if not most, the children's fathers are waiting for them in the country of origin after their return.

"The workers have been arrested because of prolonged illegal stay, although, out of consideration, it has been decided to let their kids finish the school year, after which the mothers will voluntarily leave without deportation with their kids and return to their home. We are seeing unceasing attempts to take advantage of this thoughtful gesture."