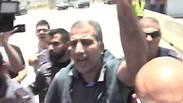 Mahmoud Katusa
Photo: Gil Yohanan
Mahmoud Katusa walked out on Tuesday from the Ofer Military Prison to his waiting family and supporters after 55 days in custody and an earlier decision by the Military Prosecution to withdraw the charges against him for lack of evidence.

As he was carried on soldiers of a family member, the now freed Katusa said the police and prosecution make up lies about him.

He was greeted by family and supporters calling "Allah is Great" and some raising Palestinian flags.

Katush told reporters waiting for him outside the prison: "I am clean 100% I am not that man. They should do what they must and if they find one word against me, I am prepared for anything. I am sure of myself."

He added, "I want to say that this is a fictional story created by people that have no conscious, faith or morals, people who are disconnected from reality. Moslem people cannot do such a thing."

In a dramatic turn of events, Mahmud Katusa, suspected of the alleged rape of a seven-year-old girl in a West Bank settlement, is to be released from custody Tuesday and the accusations against him withdrawn by the Military Advocate General
The decision came after a meeting held by the Military Advocate General and police whereby a determination was made that there is no evidentiary justification for the case to proceed.

The announcement further stated that "The police investigation will continue in full force, in regard to Mahmoud Katusa's possible involvement and in pursuit of other suspects".

The case against Katusa, a Palestinian from the West Bank village of Deir Qadis, came under fire in the past week when it became clear the police investigation relied almost entirely on the testimony of the seven-year-old victim, while forensic evidence was not collected, and the exact time and place of the alleged attack remained unclear.

On Monday,two months after the alleged attack was believed to have taken place, police investigators collected the victim's cloths for the first time to determine if they may contain DNA evidence adding to questions about the professional manner in which the investigation was conducted from the very start.

His wife told Ynet she believes the Police owes her husband an apology.

"My husband is a good man and did not do what they claim. Thank God he will return home today. This has been a terrible time."

The family of the seven-year old victim of the alleged rape say they are distraught at the news of the suspects release.

Lawyers for the family say the child had positively identified the suspect Mahmoud Katusa, as the man who attacked and raped her.

The lawyers add that the little girl was kept at the police station until midnight Monday, recounting the events and answering questions and added "citizens of Israel should be very concerned this morning at the decision to release the suspect and withdraw the charges which is no less than sham".