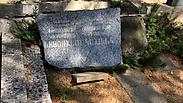 Vandalized grave-stones at the Jewish cemetery in Tallinn, Estonia
Vandals attack gravestones in Jewish cemetery in Estonian capital
Country's chief rabbi says he has been in touch with police, authorities over the incident, expresses hope that calm will be restored; Estonia's coalition includes far-right party with anti-Semitic and neo-Nazi elements among its members
Estonian Chief Rabbi Shmuel Kot informed local police of an act of vandalism at the Jewish cemetery in Tallinn on Sunday, after he found 8 large gravestones had been shattered.
Kot told Ynet that the graves were located in the back end of the cemetery where no guards are stationed. The cemetery itself is located on the outskirts of the Estonian capital.
Meanwhile in another part of the city, swastika graffiti was sprayed on a Russian memorial.
Estonia was celebrating the Nativity of Saint John the Baptist, a national holiday, when these incidents occurred. Rabbi Kot attributed the incident to what he called a worrying rise in hate crimes in the country.
"I hope this is the last incident of this kind," says Kot, adding that this is an abnormal situation.
"We are in contact with the police and with authorities and I hope calm is restored."
The Estonian coalition government that came into power in March includes the far-right Conservative People's Party (EKRE) which has in it an anti-Semitic and neo-Nazi element. The party controls five ministries including the Ministry of the Interior.
EKRE is considered a supporter of Israel and the policies of Prime Minister Benjamin Netanyahu.
The party expressed their support of the Trump administration's decision to move their embassy from Tel Aviv to Jerusalem last year.