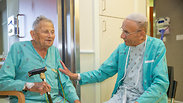 David Ashri (left) and Yehuda Noyman (right) (Photo: Ohad Zwigenberg)
From POWs in 1948 to hospital roommates in 2019
70 years after they were both captives of Jordan during the War of Independence, David Ashri and Yehuda Neuman meet once again for heart surgery; the two are spending their recovery reminiscing about their days as POWs, thanks to the doctors who made the connection between them
David Ashri and Yehuda Neuman fought together in the Battle of Gush Etzion in the 1948 War of Independence. They were both captured and they both spent long months as prisoners in a POW camp in Jordan.
After being released they would occasionally meet up with other POWs, but as the years passed the contacts faded. Until recently, when the pair found themselves sharing a different kind of experience - recovering side by side from heart treatment.
In 1946, Yehuda Neuman was one of the founders of Kibbutz Ein Tzurim, one of the four settlements in the Gush Etzion settlements bloc in the West Bank.
"My father was one of the founders of the city of Ra'anana and I wanted to establish a settlement of my own in Israel," he says.
"I joined a Bnei Akiva youth group and we established Ein Tzurim. It was our intention to have a good relationship with our Arab neighbors. Everything was fine until the United Nations decided on the November 29, 1947 to pass the Partition Plan for Palestine."
"We dreamed of having good relations with our Arab neighbors, and until November 29 everything was fine," he says. "We went to visit them in their village and they visited us.
After the UN Partition Plan on November 29 (1947), the 'Arab riots' began, and the road to Gush Etzion was cut off."
Following a fatal attack on one of the supply convoys to the area, the women and children were evacuated from nearby Kfar Etzion, but Noyman remained with his friends in Ein Tzurim.
"There were no children to evacuate, we were all children," he laughs.
In order to help the Gush Etzion fighters, supply convoys from Jerusalem arrived. The most famous of these was the Convoy of 35, known in Hebrew as the Lamed Heh, whose members perished battling Arab fighters in January 1948.
David Ashri was born in the Old City of Jerusalem and was just 17 when Israel was established. He lied about his age to join Gadna, an IDF program preparing young people for military service. He joined the last convoy to leave for the settlements and secured one of the most strategic locations in the area during the battle, a Russian monastery.
He was wounded in the arm during that final battle and was forced to crawl one-handed to the Gush Etzion communtiy of Masu'ot Yitzhak, which today has been rebuilt near Ashkelon.
He was captured at Masu'ot Yitzhak and spent 10 months as a POW in Jordan for 10 months, where he was eventually released in a prisoner exchange.
While as the years passed Neuman and Ashri would occasionally meet at POW reunions, it was their shared history that recently brought them together in the most unusual way.
In recent weeks, both men needed cardiac catheterization and were treated separately by the same doctors at Hadassah University Hospital, Ein Kerem. But then their doctors - catheterization director Prof. Chaim Danenberg and cardiologist Dr. David Planer - noticed that the two had matching scars on their chests from similar shrapnel wounds sustained in battle.
The doctors united the two who have spent their recovery period together reminiscing about their days as prisoners of war.
"We haven't met in years, but the spiritual bond between two people the fight alongside one another doesn't fade," says Ashri. "We fought together in Gush Etzion, fell as prisoners together, and continued getting to know each other. It's like we saw each other yesterday."
"We enjoy taking care of our patients, and when you take care of them you listen," says Prof. Danenberg. "When you don't see the person behind the ailment the work is purely technical, but if you listen to their stories, it's an absolute pleasure."