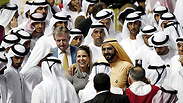 Princess Haya Bint al Hussein
Photo: Reuters
Jordanian princess and junior wife of Dubai's ruler escapes with £31 million
Princess Haya Bint al Hussein is said to have gone to Germany and is demanding divorce; Human rights organizations also demand information regarding the whereabouts of UAE prime minister's daughter, missing after a failed escape from palace
The Jordanian princess and the junior wife of the United Arab Emirates' prime minister has fled her palace with her two children, having taken £31 ($39) million with her, said sources in the Gulf state's royal family.

Princess Haya Bint al Hussein, wife of the Dubai's ruler Sheikh Mohammed bin Rashid al-Maktoum, is said to have gone first to Germany and then on to the UK where she is now hiding with the money.

The princess, half-sister to Jordan's King Abdullah and one of the 26 wives of the Emir of Dubai, is now threatening divorce. STRONG>

The Oxford University educated princes is an avid Equestrian with a succession of achievements in horse jumping competitions including having participated in the Summer Olympic Games back in 2000.

Though this is a passion shared by her husband, she was not by his side at Royal Ascot in June and has in fact not been seen in public since May.

Haya is not the first woman to escape the Sheik's custody. His 37-year old daughter Shamsa, from his first wife tried to leave their Surrey estate when she was 19 but was captured, returned to Dubai and is said to be held prisoner, often under sedation.

Another daughter Latifa, now aged 33, did manage to escape Dubai in 2018 with the help of a French former secret agent but was captured by Indian police, off the coast of India and returned to Dubai. She too has not been heard of.

Latifa's friend and advocate for her release Tiina Jauhiainen told the British Sun newspaper she urged Princes Haya to intervene saying, "We would urge Princess Haya to use her global power and influence to help free Latifa, who is and suffering because of her own father's treatment of her."

Human Rights Watch last year demanded information about Latifa saying failure to disclose the whereabouts and status of the princess could qualify as an enforced disappearance, given the evidence suggesting that she was last seen as UAE authorities were detaining her.

Amnesty international in its 2017-8 report has blasted the UAE for human rights abuses claiming authorities continued to arbitrarily restrict freedoms of expression and association, using criminal defamation and anti-terrorism laws to detain, prosecute, convict and imprison government critics and a prominent human rights defender.

Dubai is one of seven emirates that make up the UAE and second in size only to Abu-Dhabi.

It has a population of 2.6 million and its capital, also named Dubai, is the largest city in the UAE. It enjoys revenue from its vast oil and gas reserves and is a tax haven to many of the world's wealthy.