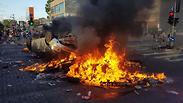 Protesters set fire to abandoned car in Kiryat Ata
Photo: Hassan Shaalan
40 hurt, 60 arrested as Ethiopians protest police brutality; PM calls on masses to stop blocking roads
Masses protest around Israel following the killing of Solomon Tekah by an off-duty cop; many roads, junctions closed, protesters block train tracks; police uses crowd dispersal methods in Tel Aviv, Haifa
Mass protests raged in several locations around the Israel on Tuesday evening, following the funeral for 19-year-old Solomon Tekah, who was shot dead by an off-duty policeman in a Haifa suburb on Sunday. Dozens were injured, of whom 47 police officers, and 60 were arrested.

Many major roads and highways were blocked as protesters took to the streets in the north, south and center of the country, causing severe traffic around Israel.

Prime Minister Benjamin Netanyahu said in a video that protesters around the country should stop blocking major roads, and that the problems the Ethiopian community is facing need to be solved while respecting the law.

"We all mourn the tragic death of the teen Solomon Tekah, " said Netanyahu. "We embrace the family. We embrace the Ethiopian community. These are not empty words. We know there are problems that need solving, and we need to work hard to solve them, but I ask one thing of you — stop blocking roads."

"We are a country with a rule of law," continued the prime minister. "We won't tolerate the blocking of roads. I ask of you, let us solve problems together while respecting the law."

Earlier Tuesday, hunderds blocked Highway 70 near Yokneam, in the north, and others the blocked the central Azrieli Junction in Tel Aviv. At Kiryat Ata Junction in the Haifa district, police removed protesters who burned tires and a car and blocked a major road. Nineteen people were arrested.

In Azrieli Junction, several cars windshields were smashed by protesters and car was set fire to. Near the city of Netanya, a police car was set on fire.

Some 50,000 people were stuck in traffic across Israel following the protests.

The Israel Lanes Company said that even when protests end, it is bound to take hours to clean roads and highways from rocks and other hurled objects.

One policeman was moderately wounded when he was hit in the head by a stone at a protest near the city of Hadera. He was hospitalized.

A 28-year-old protester was hit while blocking Highway 431 near the city of Lod in a hit and run accident. He was evacuated to a nearby hospital.

In Afula, protesters gathered in Ha'atsmaut Square and clashed with police forces, hurling objects at them. In Petah Tikva, a protest march also took place Tuesday evening. In Netanya, a march blocked Route 2, the coastal road.

Roads were also blocked in the northern city of Karmiel, as well as in the southern cities of Ashdod and Ashkelon.

Protesters also took to the streets in Jerusalem and near the city of Gedera.

Police forces were containing the protests, however, in several locations crowd dispersal methods were used. Disruptions and protests are expected to take place throughout the seven days of mourning for Solomon Tekah.

Earlier Tuesday, Hundreds of people turned out for Tekah's funeral. "Give me my boy back," said Solomon's father Worka Tekah as he delivered his eulogy at the start of the funeral procession to Tel Regev cemetery on the outskirts of Haifa.

Tekah was shot dead in the Haifa suburb of Kiryat Haim when the police officer pulled out his gun while trying to break up a street brawl.

The unnamed officer, who was walking with his family when the incident occurred, was detained and is currently under house arrest.

The policeman said that he opened fire due to concerns for his and his family's safety.