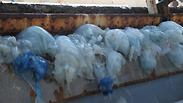 Jellyfish at Ashkelon's power station
Photo: Israel Electric Corporation
Thousands of jellyfish invaded a power station in southern Israel, prompting fears of power shortages and disruptions in electricity production.

The Israel Electric Corporation said swarms of jellyfish arrived at the Rutenberg Power Station in Ashkelon on early Thursday morning in the seawater used by the station to cool off the operating systems.

Jellyfish at Ashkelon power station (צילום: יוסי וייס, חברת החשמל, עריכה: ארז ארליכמן)

The jellyfish have piled up on the filters of the power station, which prevents them from entering the station's operating systems. The marine animals are then taken to designated tankers.

In recent days, the jellyfish season has kicked off in Israel with thousands of marine animals arriving at the country's shores.

Some of them were drifting towards to various infrastructures along the coastline, which includes the power station in Ashkelon and Hadera Desalination Plant.

"The coastal power stations are prepared for the summer. This includes the arrival of jellyfish, the maintenance and treatment of the filtration systems which percolate the seawater pumped used for the purpose of cooling off the systems," said Shmulik Lev, an engineer at the Israel Electric Corporation.

"When we receive an alert about a swarm of jellyfish approaching the station, we increase the number of workers involved in cleaning filtration systems from the jellyfish caught there, as well as the number of workers who would take care of them in the event of a mishap," he added.