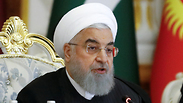 Iranian President Hassan Rouhani
Photo: Reuters
Israel's clarion call on nuclear Iran
Analysis: With Trump pulling out of the 2015 deal, European leaders are unable to demand complete Iranian compliance and consider Tehran's violations mere tactical moves to force negotiations; meanwhile, Jerusalem is preparing its options to stop the Islamic Republic from going atomic
The Iranian government - no longer even trying to make excuses - has violated the 2015 nuclear deal twice. Once by enriching uranium over the agreed-to 3.67% and the second time by increasing the amount of enriched uranium it holds to more than the 300 kilos stipulated in the 2015 agreement.

But the real violation was that of the Trump administration, which decided to pull out of the nuclear deal altogether and renew sanctions on Iran.




Israel for its part is clear: the nuclear deal outlined a timetable that would enable Iran to breakout and proceed towards a viable nuclear weapon within a year.

Any change to the agreed-upon restrictions on Iran may reduce the time needed to achieve such a weapon. Israel sees this as a dangerous slippery slope, because there is no doubt in Jerusalem's mind that Iran means to obtain nuclear capability by any means and at any cost.

But Europe regards Tehran's recent actions as nothing more than negotiation tactics; Iranians continue behind the scenes discussion in an effort to bring the parties back to the table and ultimately remove the crippling new economic sanctions imposed on them by the Trump adminstration.

The European governments have already tried to circumvent U.S. sanctions through INSTEX (Instrument in Support of Trade Exchanges) - the channel set up by the UK, France and Germany in January for trade with Iran. But this is apparently not delivering the results Iran was hoping for, as major companies on the continent have stayed away fearing a risk to their trade with the U.S.

The failure of INSTEX prompted further Iranian threats for future retaliation when the sanctions imposed on them by the Trump administration are eventually lifted, but to no avail.

So, what will prompt Europeans to take action? Will it be when the Iranians begin enriching uranium to 20 percent?

Israel will have to convince world leaders that Iran's violations of the Joint Comprehensive Plan of Action (JCPOA) are not merely tactical. It will have to show that Iran is in fact accelerating its charge towards a nuclear weapon.

Israeli leaders should ask the JCPOA signatories to invoke a clause at their disposal demanding the Iranian leadership fall back in line with the agreement. Failing that, they too should reimpose sanctions.

The IAEA - which is in fact the operational arm of the JCPOA - will have to decide whether to accept the Israeli position. If it does not, the blow to both Israel's government and the Trump administration will be great.

Israel's defense community is back to considering military options to stop a nuclear Iran from becoming reality after the realization that Europe cannot be counted on to block such an eventuality.