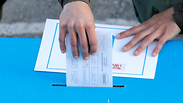 Voting in the April 2019 elections
Photo: Reuters
This election campaign leading up to the snap September ballot, was supposed to be a slam dunk for Netanyahu and his Likud Party but two months out, it is anyone's guess what the next government will look like.

In just three weeks the candidate lists for the Knesset elections must be finalized and submitted.

Admittedly we though this campaign would be a replica of the April vote with the same parties in the same party blocs and with the same agenda.

But that is not the case. It is an unstable arena with many factors in it, still unknown.

The right wing is now more fragmented and the left field far less clear.

Naftali Bennett and Ayelet Shaked, who failed to cross the minimum threshold to enter the Knesset last time round, are stirring the pot to the right of Likud.

While on the left, former prime minister Ehud Barak popped up and formed his own party which may just make it across the threshold, is in the meantime stirring the pot on the left.


The Blue and White party, who led the center left bloc is now thrust into the unknown. Is the Labor Party with its new/old leader Amir Peretz a threat? Is Barak?

Will politicians be able to check their egos at the door, unite and run together? Or will they hold on to their leadership hopes and risk wasting votes?

Prime Minister Benjamin Netanyahu who is considered a political maverick, seems fearful of this election. It may determine his political future.

His desperate attempt to scrap the ballot which he himself insisted upon, is proof of that.

Likud is suffering in the polls. Without renegade Avigdor Liberman, Netanyahu's bloc is worth 54 to 55 seats and if the polling proves accurate, he will be unable to form a rightwing coalition government and may be forced to agree to a rotation of leaders at the helm, with the opposition, provided a partner is founding willing to share the premiership with a man facing serious corruption charges.

The only way Likud ends up forming a government, according to high ranking Likud members, is if all far-right parties unite and right-wing voter participation is high.

On the other side of the map, Ehud Barak launched an attack of Netanyahu with full force, leaving all other center and left politicians in the dust.

Barak is known for his aggressive, take no prisoners approach prompting Netanyahu's equally aggressive push back towards his archrival.

Ironically though Barak is viewed by the prime minister as the only one capable of derailing Blue and White leader Benny Gantz from his position as contender for the premiership.

The former prime minister, former defense minister and Netanyahu adversary is also able to motivate indifferent Likud voters who may now view Likud's leadership under threat.