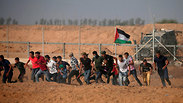 Protests on the Israel-Gaza border
Photo: AFP
A projectile - apparently a mortar - fired from Gaza hit an open area in Eshkol Regional Council, one of the Israeli communities close to the Gaza border.

Air raid sirens sounded due to the attack, which occurred at around 10pm.

The attack came a day after Israel Defense Forces troops shot dead a Hamas operative in Gaza. Israel later apologized for the incident, saying the operative had been "misidentified."

The IDF earlier Friday increased the number of Iron Dome anti-missile batteries in the south as Hamas threatened revenge for the death of its operative.

Hamas, which rules Gaza, rejected Israel's apology for the killing of the operative, with a senior group official telling protesters at the Strip's border fence with Israel on Friday that, "despite the apology, we will avenge the killing of the military activist."

More than 6,000 Palestinians demonstrated Friday along the fence as part of the regular "March of Return" protests.

The demonstrators threw stones and explosive devices. Palestinians protesters even documented a Molotov cocktail being hurled at an IDF jeep.

"Two Palestinians approached the area of the border fence earlier in the morning in the northern Gaza Strip, behind them was a Hamas restraint operative, who was supposed to take the men back to Gaza," said the IDF Spokesperson's Unit in a statement Thursday.

"An initial inquiry suggests that the IDF troops who arrived at the location misidentified the Hamas restraint operative to be an armed terrorist and fired as a result of this misunderstanding. The incident will be reviewed," it said.

"We will not allow this shooting to go without a response, and Israel will pay for its actions," the terror group said in a statement.

"Israel intentionally fired at one of our members while he was carrying out his duties. We've launched an investigation into this crime."

The killing of the gunman came just as a temporary ceasefire agreement between the two sides has come into effect between Israel and Hamas, which was preceded by over 100 fires in southern Israel which broke out as a result of incendiary balloons launched from Gaza.

However, recent data from Israeli authorities show that the number of fires caused by incendiary balloons from Gaza have gone down in 2019, compared to 2018.