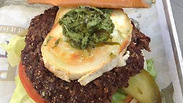 Burger from Paris, Texas (Photo: Buzzy Gordon)
Coca Cola Israel, in conjunction with Time Out magazine, is sponsoring its first ever "burgers month" this summer, pairing distinctive burger creations with Coke.

The ambitious project involves some 100 restaurants all over the country, including some of the country's most famous, helmed by celebrity chefs.

Even kosher restaurants, and ethnic places specializing in foreign cuisines that usually do not serve hamburgers, are participating.

Each participating restaurant has created its own special burger and toppings for the occasion.

The burgers come as the centerpiece of a meal that includes a choice of Coca Cola beverage -- Classic, Diet or Zero -- and in many cases, a side dish as well. Burger Month meals start at NIS 46.

Among the burgers we sampled and can recommend are the ones at:

Paris, Texas, gourmet meats from one of the "container restaurants" in a compound near the Diamond exchange -- 200 grams of ground lamb topped with Sainte-Maure cheese and jalapeno-mint jelly, served on a bun with lettuce, tomato, onion and pickles, a side of zesty horseradish coleslaw and a can of Coke. NIS 72.

Burger Saloon, a premium suburban chain -- 220 grams of ground lamb, topped with a fried egg, choice of sunny side up or over easy.




Served on a bun with onion, tomato, and arugula, a side of French fries and a can of Coke. NIS 61.

Dixie Grill Bar, a barbecue joint owned by star chef Haim Cohen -- a sabich burger, inspired by the popular Iraqi-Israeli street food: 200 grams of ground beef, hard-boiled egg, tehina, grilled tomato and amba.




Served with potato salad and a small bottle of Coke. NIS 79.

Burgers Month commenced in June and runs through July 20.